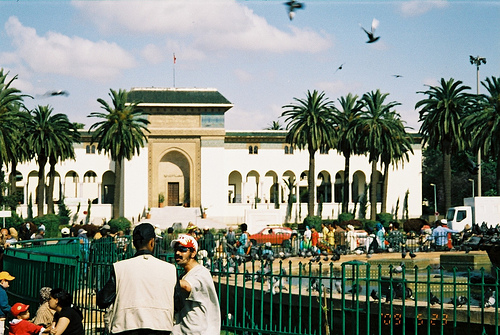 Though we've had a definite interest in all the political change and immense courage continuing to be displayed in the Middle East, having friends in Morocco and having visited the country does keep it at the top of our minds. When we visited our friends, I fell for the country, and we found the legendary Berber hospitality very much in evidence almost everywhere we went. People wanted to be sure we felt safe.  In general, we did.
We're hoping the Moroccans stay safe now as they continue to protest for government reform and against corruption.  GlobalVoices has a report and a collection of videos from Sunday's protest in Place Mohammed V in Casablanca that apparently drew thousands to rally outside the Palais de Justice. The square is along some major routes in Casablanca, and would certainly be visible to drivers and commuters alike.
When we visited, there were a few food sellers and families in the square and people strolling around to enjoy the weather. Here's a few shots of the square on a normal afternoon in Casa.