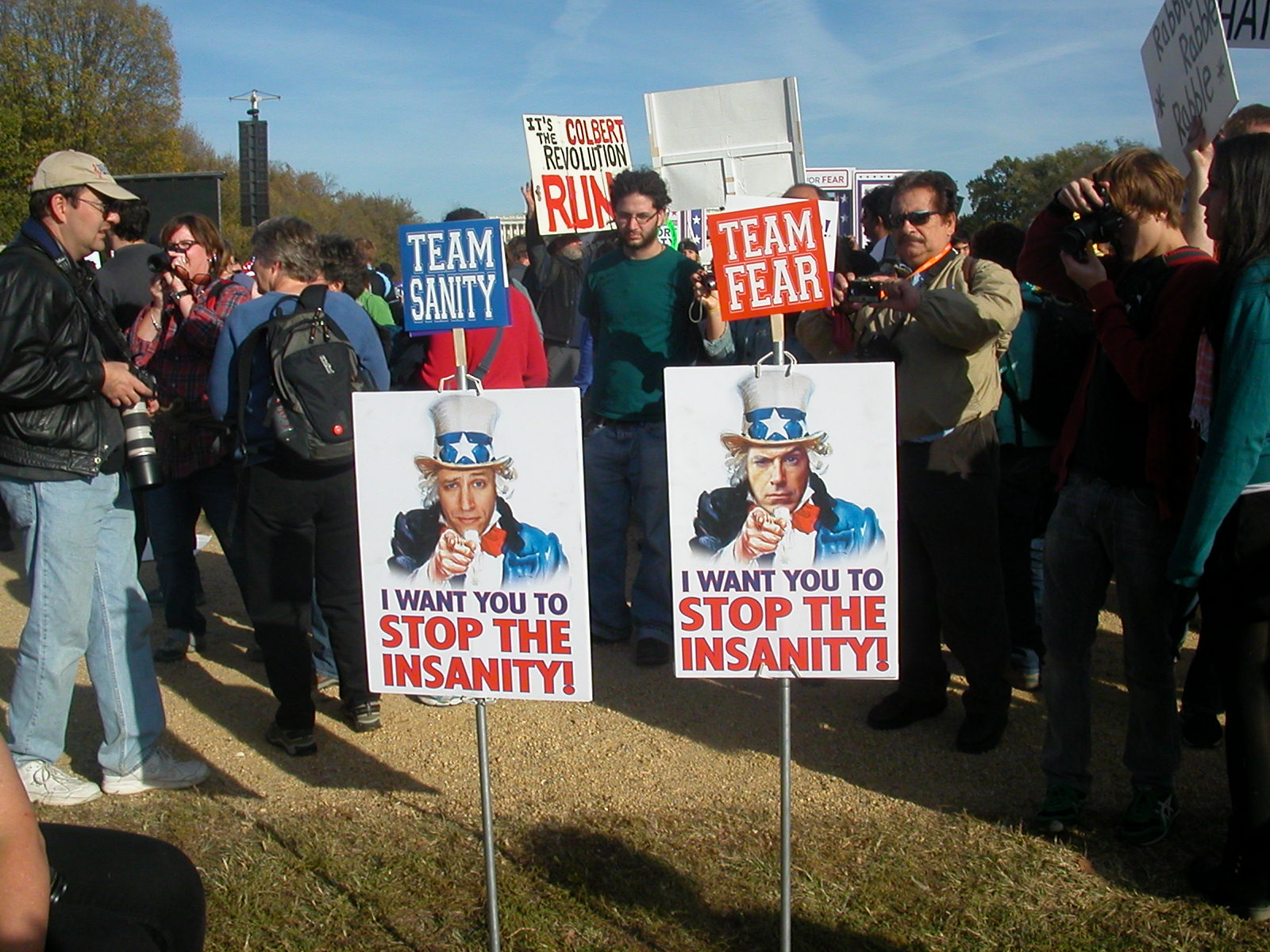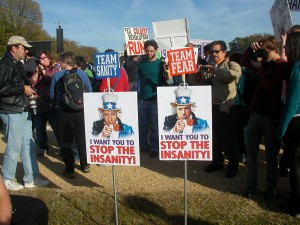 When Nic and I first heard that the Daily Show was going to stage it's own rally in response to the one thrown earlier in August by Glen Beck, we weren't sure we'd be able to do it – despite both really wanting to. Thankfully Torontoist, a very good source for all things Toronto, came to the rescue after securing some sponsorship.
Gathering in the growing gloom of that cold Friday evening, we waited outside the Royal Ontario Museum, and looked ever hopefully for our expected buses. After checking in with the designated Torontoist blogger and "bus leader" for the trip, we finally boarded our buses, and set off for the border. Everyone having already made some chit chat while trying to keep warm as we waited, began to clump in these groups and settle in for the long drive down to Washington. Because it was still early in the evening, and we weren't expected to cross the border until some time after midnight, Torontoist ever thoughtful, not only brought signs for us to take to the rally (though we had already opted to bring our own), but also had on hand a season of the Simpsons, and after some technical difficulties, we passed the first leg of the journey with some cartoons.
As we approached the border and waited for our bus to be waived through for inspection, speculation occurred about how long the border crossing was going to be with news that day of explosive devices being found on transport planes out of Yemen, and Homeland Security raising the threat level. Having been stopped numerous times going through Customs, we made light of the situation, and were later rewarded after we breezed through. Trying to find some sleep thereafter however proved elusive, leading to the rest of the trip that evening passing in a somewhat zombie-like state. After one last early morning stop (which Nic was kind enough to try and let me sleep through) we arrived in Washington.
Join me in part two for our search for a Starbucks, and the multitudes that turned out for the rally.