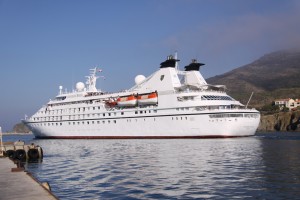 My parents would be the first to tell you I was pretty much born with champagne tastes on a beer budget (and that beer would be Wildcat).  Gary would be the second; put me in a shoe store and I will unerringly pick out the most expensive pair in the place as my favorite.  It's not something I try to do.  Like most people, I like nice things.  Nice things with a hefty pricetag.
So I'm kind of obsessed with Seabourn.  Seabourn is so nice, they don't have cruise ships, they have yachts.  There's no worrying about drink packages and bars because there's a bar in your room with your preferred brands.  Almost every suite has a balcony.  Every cruise site extolls the luxury of their service, but the only one I really believe is Seabourn – though I haven't yet checked out Crystal, Windstar and some of the others.  I certainly don't have the money for it, but I can dream… and you know, we sometimes play the lottery, so who knows.
I read some time ago on Cruise Critic that the recent sales and deals on luxury cruises were bringing Seabourn within the price ranges of lines like Cunard.  While I wouldn't call Cunard affordable, I haven't run screaming from the prices either – we're baby ballroom dancers and would love to take a spin on the Queen Mary's dance floor.  So, I took a look to see what you could get for around the same price from each line.
On Cunard, their lowest priced cabin for a 14-day Baltic cruise in May (May 31st) goes for about $3697.06.  That includes the usual basics for a cruise; accommodations, meals (except for the specialty restaurant surcharge), entertainment, and certain nonalcoholic drinks.  Cunard allows a small amount of personal alcohol onboard, but does not have drink packages, though bar prices are about the same as they would be in the UK or Canada.  Internet use starts at $50 for 2 hours, which is like, wow – did you guys talk to Bell Canada about that pricing scheme?
On Seabourn, a 10-day Baltic cruise with a similar itinerary starts at $3960.  What will a difference of 4 days and $300 get you? The aforementioned fridge and bar stocked to your preferences, personalized stationery, flat-screen television and DVD player, and other little touches like bathrobe and slippers and umbrella and clock.  Several of the ships have Bose Stereo systems and on-demand music and movies along with an iPod docking station.  There's also free 24-hour internet access in the computer centre and Wi-Fi through most of the ship.  Aside from shore excursions – which I bet command a hefty price – there's not much that isn't included.

So is it worth the tradeoff? It depends on several factors, and how important those things are to you.  Do you drink enough onboard that not paying for drinks will make a big change in your budget?  Is excellence in service key to your enjoyment of your cruise?  Are you the sort of person to whom time spent on the ship is as important as time spend at the port?
Personally, I'd make the trade… if I were the sort of person who had over $3K just lying around for a vacation.
Are you tempted by luxury cruises too?  Have you ever taken one?  Let us know in the comments!