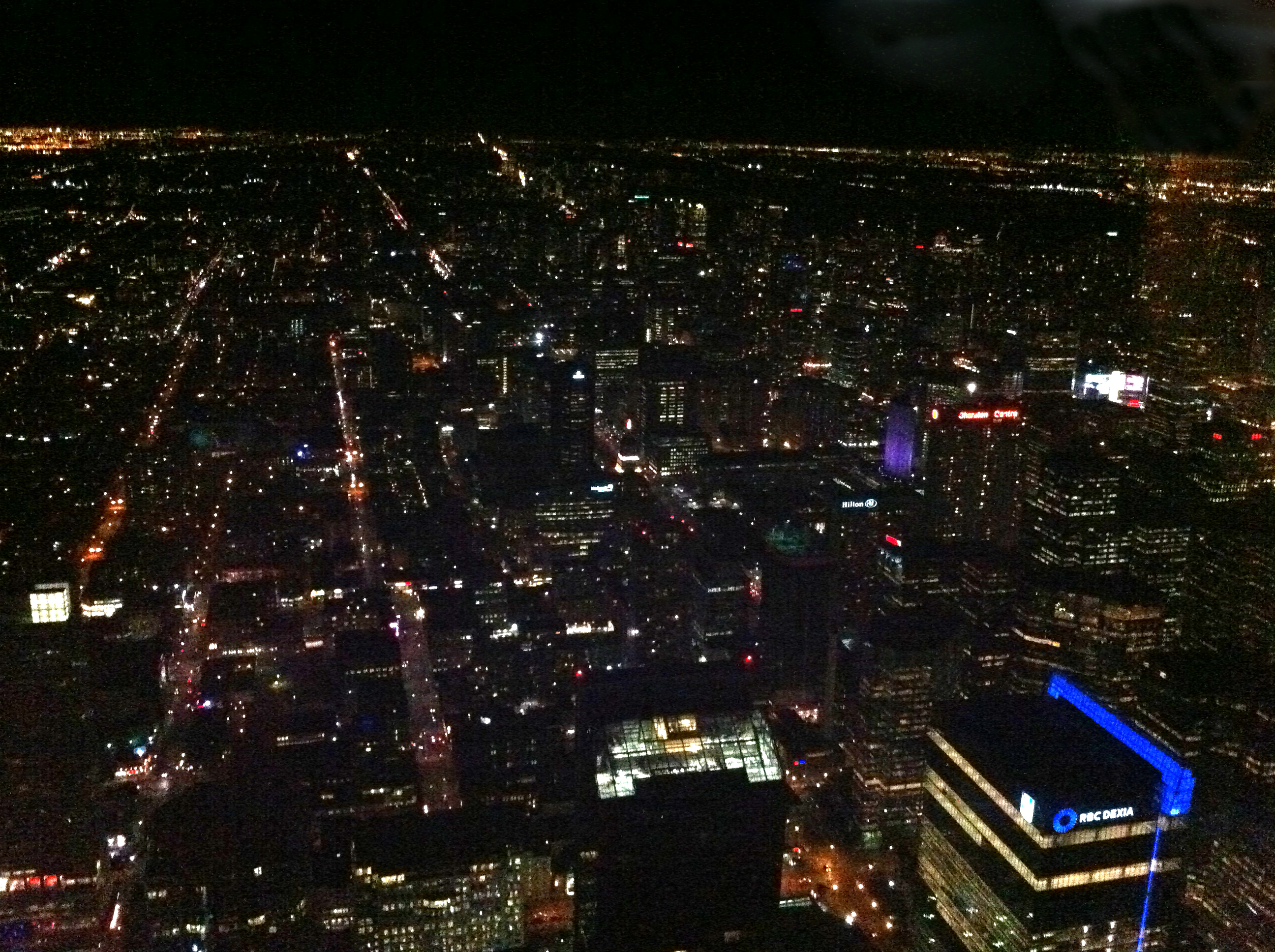 Gary's family from Wales – his cousin Anna Marie and his grandfather – came to Canada for a few weeks, so we've been busily showing them around. One Friday evening, we took Anna out to go up the CN Tower, a Toronto fixture.
We went over to the Lone Star Texas Grill for dinner first, as it was close to CBC and Anna hadn't had Tex-Mex before – no time like the present. Gary and Anna had the Chili Jalepeno Fire Fajitas – mesquite grilled chicken with mole sauce – for two at $25.99 and I had Vegetarian Fajitas at $15.49 – a skillet of onions, peppers, broccoli, button & grilled Portobello mushrooms with chimichurri and served with roasted tomatillo salsa. All the fajitas there come with a ton of sides – rice, beans, Cheddar cheese, sour cream, house-made guacamole, Pico de Gallo and endless fresh-baked tortillas, so you certainly won't go hungry, though do ask for hot sauce if you love spicy food. (Our waitress, 'Wild Rose', asked us on her own – thanks!)
We all enjoyed the fajitas, and were actually quite surprised at how much food came with my single serving as opposed to their double. The service was surprisingly excellent for a Friday night when a Jays game was on around the corner. 
The only disappointment was the drinks!
Anna and I both ordered "Texas-Sized" Margaritas to start (seen above), then feeling we should be cautious for the rest of the evening, ordered regulars. We all agreed that something THAT BIG should at least have some effect. But no, we left for the CN Tower more sober than I might have been after two pints. Boo, I say, Lone Star. I am a lightweight. A Texas-sized margarita ought to come with a Texas-sized buzz.
After food, the CN Tower. The tower is pretty much the tower – despite bells and whistles around it, the principle is simple: it was once the World's Tallest Freestanding Structure, you go up it; if you're afraid of heights, you freak out, if not, you shepherd the people afraid of heights and stand on the glass floor for them.
Though Anna later went up again during the day, our trip was around 8PM – a good time if you don't want lines. There was a wedding or something like that in Horizons, which provided dance music, drunken speeches, and packs of girls in formal wear and heels walking on the glass floor. Though the lights are lovely at night, you can see all the way to Niagara Falls on a clear day. If you're in Toronto, it's not likely worth the most expensive ticket, but it's worth a trip.
Here's a few shots of Toronto by night:
The CN Tower is at 301 Front Street West and is accessible by St Andrew or Union Stations.  Phone is (416) 868-6937 and the website is:  http://www.cntower.ca/
Open 364 days a year, closed on Christmas Day. Hours are adjusted seasonally, call (416) 86-TOWER to confirm the hours for the date of your visit. Rates on the website.