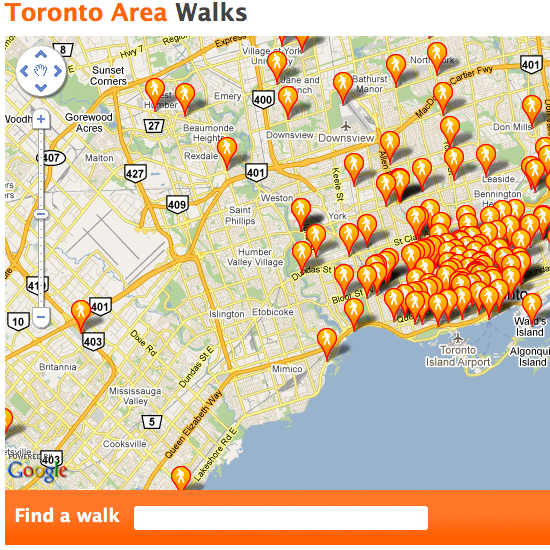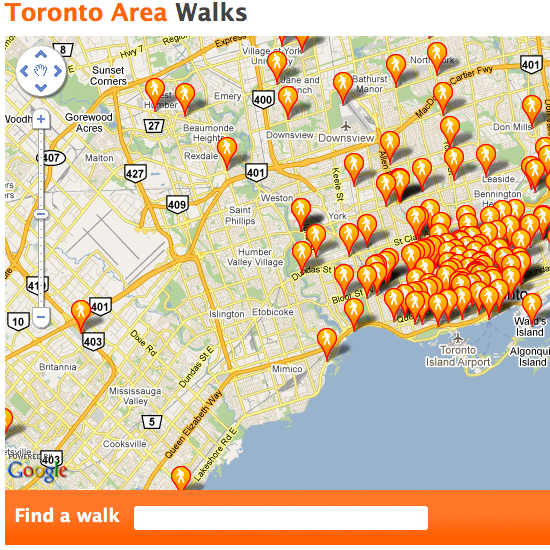 This weekend, people will be leading walks around the world to remember urban thinker, writer and activist Jane Jacobs, who championed the interests of local residents and pedestrians over a car-centered approach to planning in her writing and her work.  Jacobs moved to Toronto in the late 60's, and the inaugural Jane's Walks were held here in 2007, started by friends who wanted something to honour her memory.  Since then, the walks have expanded across Toronto and into other cities, inspiring people to get out, meet their neighbors and discover their community.
Toronto is a wonderful city to walk in, and there's a massive slate of walks available for this weekend.  Though we won't be able to hit them all, here's our picks for Jane's Walk weekend:
Don't Wear Black: a G20 Walk: "Join us as we tour the former G20 security zone and ask: Why was downtown Toronto chosen as the site of the G20 Summit? Where was the now-notorious perimeter fence? Where did police place their many surveillance cameras-and which of them still remain? What were the implications, and the results, for local businesses, tourists and citizens – and for all Canadians everywhere?"
Fowl Tour: Backyard Chickens in Toronto: "Interested in chickens in the city? A couple of backyard hen keepers have graciously offered access to their flocks for this 'tour de coops.' Participants will have the chance to ask everything they always wanted to know about chickens in the city but were afraid to ask."
Rexdale – The Best Indian Food in the City: "Want to enjoy the best Indian restaurants in Toronto? Or take in the latest Bollywood films on the big screen? Well, there's no need to travel all the way to Brampton. Just come on a tour of Albion Road and witness how the South Asian, Caribbean, and African diaspora have helped shape this suburban avenue for over a generation."
St. James Town: The World In One Neighbourhood: "Learn about the history of the neighbourhood from the youth who live in this diverse high rise development. Visit their favourite spots to hang out, travel secret shortcuts and wander with them through this forest of towers. Along the tour, we may even meet some local legends – like the Princess Dude, and the amazing role models who have lived here and organized this community for decades. We'll also hear about hopes and plans for the future of the neighbourhood. The St. Jamestown Youth Council will show you a St. Jamestown you never knew existed."
Cherry Beach: the dark and beautiful histories of a once abandoned land: "Cherry Beach and Toronto's Port Lands were once an abandoned place, where both horrible and beautiful things were able to happen, out of sight and out of mind of most Torontonians. Between the cracks nature grew, along with amazing culture, and the infamous 'Cherry Beach Express.'  Now it has become a prime recreational destination, and plans are underway to turn the area into an upscale 'revitalized' neighbourhood that would house thousands of people."
Dissecting Toronto's Street Food Vending Policy – Street Meat:  "We will examine the municipal government's role in determining the foods we have available on our streets, looking specifically at the failed attempts to diversify Toronto's street food through the A La Carte program. We will also explore the challenges and controversies faced by the city's food vendors. Guest vendors will discuss their experiences working in the street economy and navigating their way through the City's regulatory policies."
Little Ethiopia?: "On this walk we will share the stories of some of the business owners between Greenwood Ave and Monarch Park and explore the reasoning and efforts behind creating a Little Ethiopia on Danforth."
The Ward: A History of Poor People & Immigrants in Toronto:  This walk is a self-guided audio tour that you can take on your own time and schedule – as we will!