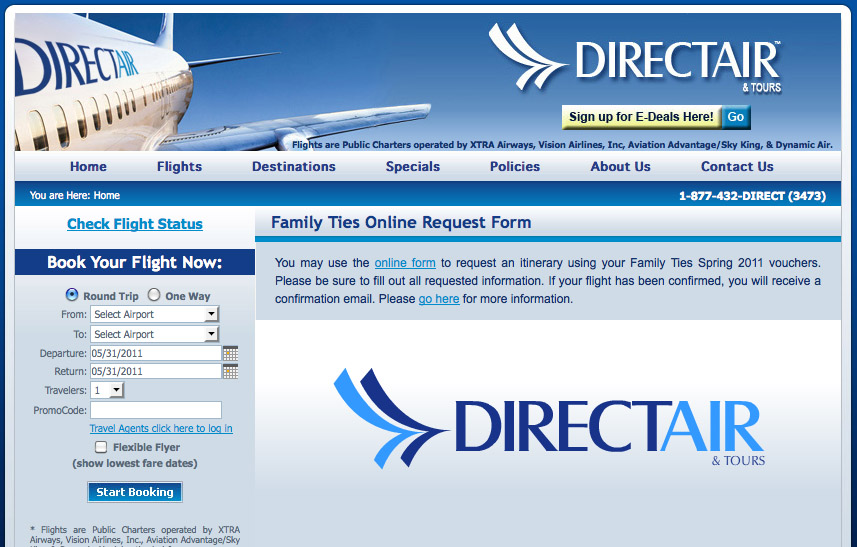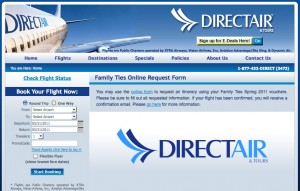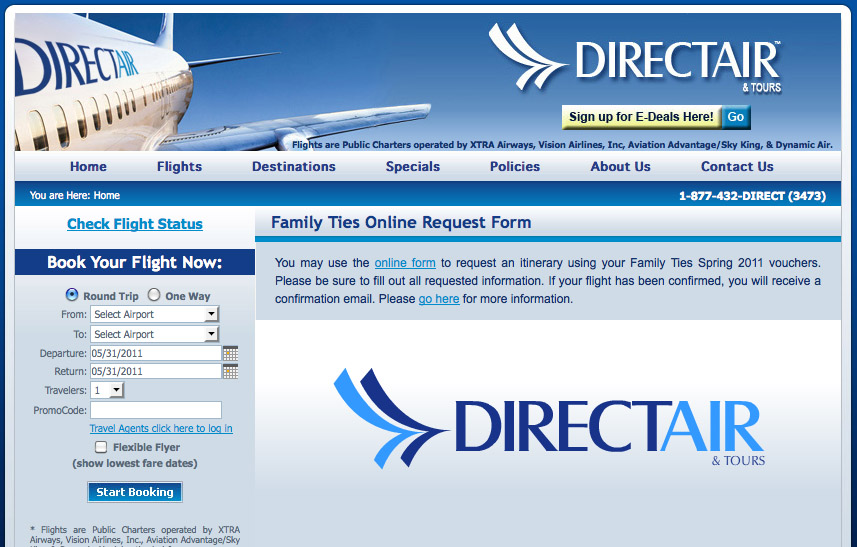 When I said of Direct Air, 'It sucks, but it's cheap', someone on Twitter said that could be their tagline.  Instead, their tagline is 'When time matters, go Direct', which…  well, not so much.
What's Direct Air?
Direct Air is a basic, charter air service that offers flights to the public at low rates, starting around $99 US. They originally tended towards flights around the continental U.S., with the bulk of them moving travellers from the frigid north to the more temperate south.
They're now branching out in that direction, offering flights to Nassau, Bahamas and San Juan, Puerto Rico along with the usual Florida trips.  The fare from Niagara Falls, NY to Nassau is $159 US each way, which is not too bad, but frequent sales and voucher offers make a better deal possible.
How was it?
We've flown Direct once, from Niagara Falls to Florida.  Due to generosity, we'll be flying with them again… and though we're not super picky and are willing to put up with a lot for a deal, I have to say, I'm really leery of giving money to a company that landed us at an airport 45 minutes away from the one we were supposed to land at in the middle of the night.
You seriously landed at the wrong airport?
Our flight was meant to put down in Punta Gorda – relatively near my parent's house in North Port.  About 10 minutes into our decent we were told 'weather problems' would have us landing in Fort Myers, a 45 minute drive away.
This sent most people's plans off the rails, and as soon as we touched down, the plane was abuzz with people on the phone, trying to figure out how to get to the airport we were supposed to be at from the airport we ended up at.   From the way people were talking, this did not sound as if it were the first time this sort of thing had happened – and more than a few people uttered the infamous 'I'm never flying this airline again'.
The crew asked if people wanted a bus provided to transport them to Punta Gorda in a 'should we go ahead and book that?' sort of way, as if there were no plans to offer transportation to passengers in the event of redirection.   We were lucky enough to have an airport  driver willing to come get us in the dead of night – and he told us that the flights got redirected all the time simply because Punta Gorda's airport was too small to service the number of flights per day.  I'm still not sure what happened to the other passengers who were left without a ride at Ft. Myers.
On the way back home, we faced no major diversions… though they did hold the plane for nearly an hour for three passengers just hanging out in the café.  But that's a whole other issue.
Aside from the airport mix-ups – when I say the airline is basic, it's $2 bottle-of-water basic, and the menu to order from is not large.  It'd be best to pack a lunch and some snacks, because there's not much to be had on the plane, even if you pay for it.
To sum up:
If Direct Air gets you to where you're going, the minor issues and incompetencies aren't going to bother you.  However, you might be rolling the dice as to where you end up. NB:  We did not check luggage.
Visit Direct Air at: http://www.visitdirectair.com/
Have you flown Direct Air?  Had a similarly bad experience on another airline?  Let us know in the comments!