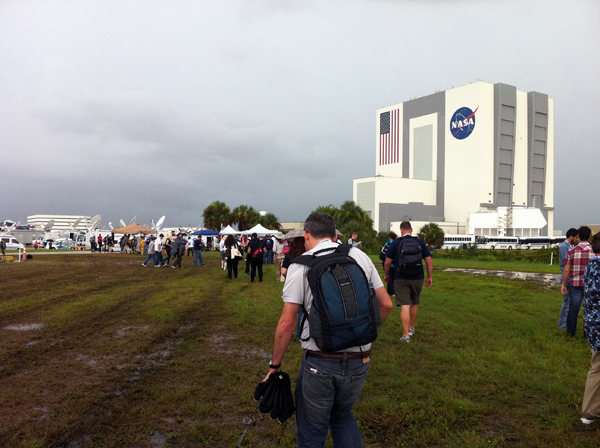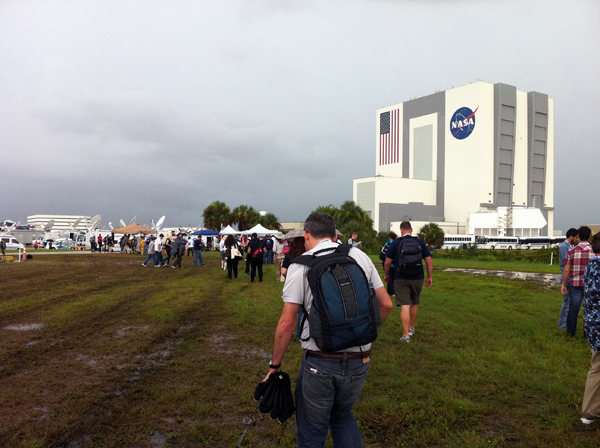 I did a little rundown of #NASATweetup at work to let people know (in general terms) what I thought NASA did that made these events so successful.  Since I haven't had much of a chance to go in-depth with my trip yet, and since I do a lot of work in social media and community building, I thought I'd share my thoughts.
Supporting and Expanding the SpaceTweeps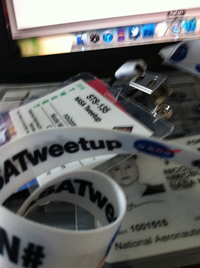 First off, NASA brings in as many people as they can for each Tweetup, but it's obviously not as many people as want to go. This creates a demand that they continue to leverage on Twitter through the @NASATweetup account and the #NASATweetup hashtag. Whether you go to the tweetups or not, you can follow the account and hashtags to get the latest on the tweetups and see tweets directly from the tweetups. Even outside of the tweetups, the hashtag is quite active with pictures, news stories and blog posts from alumni and hopefuls. These 'SpaceTweeps' are NASA's (and really, all space programs') online evangelists, and their ranks are constantly growing.
Access Beyond Mere Mortals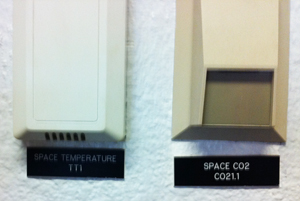 One thing that NASA really gets right is giving their Tweeps access that no one else – not even press – really gets to the people and the places at Kennedy Space Center. For example, we were taken within half a mile of Launch Pad 39A (close enough for a Foursquare check-in!), just outside the perimeter fence for the Rotating Service Structure retraction. We were also given a tour of the Vehicle Assembly Building, which is generally off-limits to all visitors – and it's massive.   And although it was kind of silly we were so excited about it, we also got to go into the NASA cafeteria. It's just a cafeteria, but astronauts eat there!  They also had the 'Space Temperature' gauge above.  It was likely just for the room, but we all took pictures anyway.
Cool People Visiting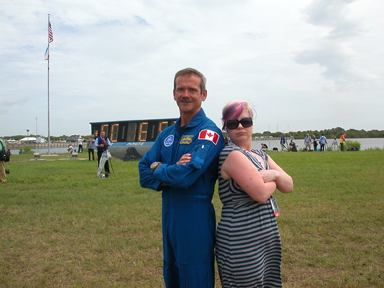 We didn't spend all our time wandering around Kennedy; people came to us in our air-conditioned, powered and wi-fi capable tent. We were able to hear from many people high up in NASA that I wouldn't have expected would have time for us in the days before the final Shuttle launch. Lori Garver, the Deputy Administrator, spoke to us both days. We had the first man to pilot a Shuttle, Bob Crippen, speak to us. We had Elmo talk about space with two astronauts in a hilarious hour that aired on NASA TV. Seth Green brought us custom M&Ms for the launch and Battlestar Galactica composer Bear McCreary's beautiful composition for Atlantis. We had very few moments that weren't filled up with something interesting or amazing, and almost every person involved made time to talk to us outside of 'official duties'.
Swag – Of Course
We all got swag bags, and some of the things we got were pretty cool. I have an astronaut squeezy toy on my desk and matching X-48B Jet at home that are unavailable for sale at NASA. We also received a ton of posters and educational material, as well as a reporter's notebook from Boeing that includes all the details of this last mission as well as the basics for every shuttle mission from STS-1 on. We also got a freeze-dried ice cream sandwich, but I'll admit I'm a little scared of it. My favourite piece is my poster on Tweeting from Space – who was the first person to tweet from space (@Astro_Mike), examples of space tweets, and so on.
What NASA does right is offering access – access to people, places and materials that ordinary space fans would not expect to easily get.  And they do so happily, enthusiastically, and with as much love of space and science as each one of their tweeps have.  And that's how you turn fans into devoted advocates.
Thanks again, NASA and Stephanie @Schierholz, @BethBeck, and the NASATweetup team.  The experience was invaluable and unforgettable.  I hope to send Gary down some day!