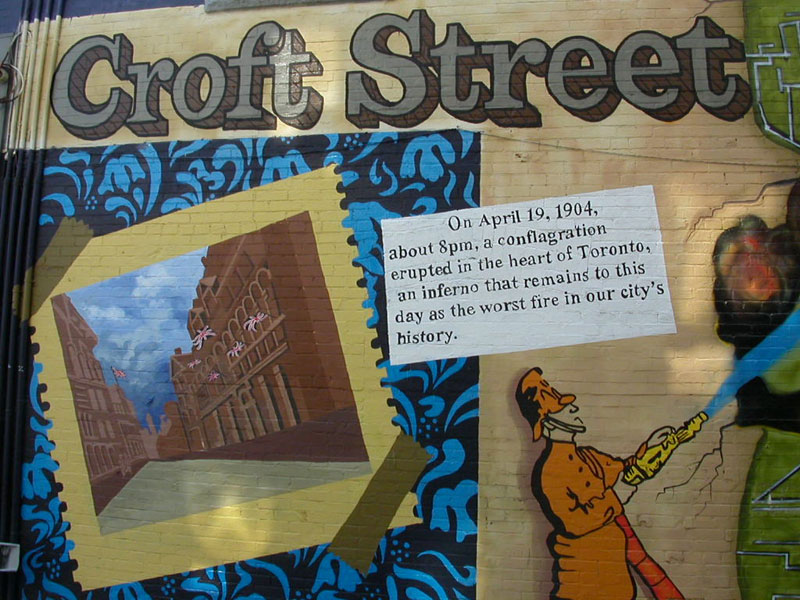 A few years ago we had the opportunity to participate in the Waking City alternate reality game that had you solve a series of puzzles as you progressed through the storyline – something I'll write a bigger post about later on. One of the things I really enjoyed about it was how it took us through different parts of the city and really made us examine our surroundings. It was like rediscovering the city.
One such location for me was Croft Street.
An area that I'd passed through on many occasions, and yet had somehow all those times managed to overlook the impressive alleyway mural commemorating John Croft and the firefighters heroic efforts putting out the Great Fire of 1904. One after all would think you'd notice a building painted to look like it's on fire.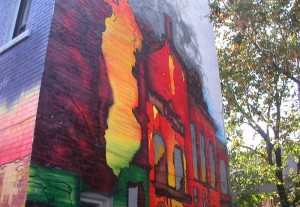 What is now the site of the TD Bank Tower just west of Bay Street, is the location where the fire was first spotted by a constable on his nightly patrol rising from the elevator shaft of a factory.
Firefighters from as far away as Buffalo would come to Toronto's aid to battle the blaze – the glow of which could be seen for miles in all direction – for a total of nine hours in the freezing April night before finally being able to wrest it under control.
However despite the loss of 104 buildings, $10 Million dollars in damages, and the 5,000 people it would put out of work, the fire was only able to claim one victim – John Croft.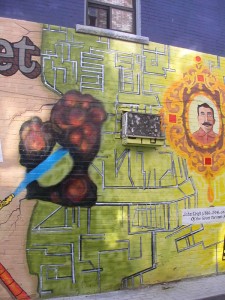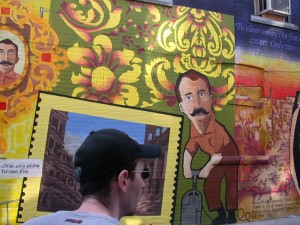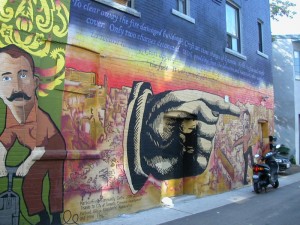 An exact cause was never determined, but did result in more stringent safety laws being introduced and an expansion of the city's fire department. Below is a newsreel from the period depicting the fire department's efforts that the City of Toronto has up under its fire services page.