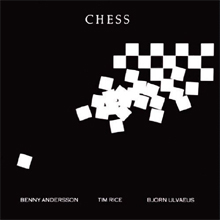 Nicole being wise about such things, realized that with our impending trip we would have been unlikely to coordinate getting rush seats at the Princess of Wales Theatre for their staging of Chess. And given that I'm rarely if ever interested in seeing musicals, Nic felt we had to make sure it happened. That and my birthday proved the perfect excuse.
Though if you can get there an hour before the show for the rush seats, I'd say it's certainly worth it. From our vantage there were quite a few good seats down on the main floor, and for $20 bucks you really can't argue with whatever you end up with.
Chess is the story about a romantic triangle between two top chess players who have been invited to compete for the world championship, and the woman who manages one of them, being told in context of the Cold War struggle, and how these players – an American and a Russian – become proxies for their respective nations.
The staging took note of this, incorporating the television sized projection of the host's commentary onto the back of the stage as he announces/commentates various aspects of the two championships to the "audience" at home. Filtered to have a grainy grey/green cast, evocative of international broadcasts made during the late 1970s, this and many other staging decisions helped maintain the world they're bringing you into – especially important given the chess inspired Victorian fetish/bondage wardrobe being used to costume the orchestra/performers.
While I've only had the opportunity to listen to the original London run, and the 1988 American adaptation, the principles more than held their own. James Fox who surprisingly started out his career as a finalist on the BBC's Fame Academy, belted out a powerful performance, and made for a convincing asshole – a must for the Freddie Trumper role.
Opposite is Tam Mutu, whose performances with a litany of London theatre groups serve him well in this memorable portrayal of Anatoly Sergiesky – though I must say I'm slightly biased, as Anatoly performs the majority of my favorite songs.
Shona White however is not to be outdone, and joins us from the recent U.K. national tour of Chess where she also played Florence Vassey, Trumper's manager and lover, who falls in love with Anatoly when they meet at the chess championship. While her character is difficult to empathize with, Shona proves she can sing and keep up with the boys, and is yet another solid performer in this cast. As Nic pointed out, some of these guys aren't just triple threats, they're quadruple threats. The Mirvish's really aren't exaggerating when they bill this as a superb cast of West End stars.
And that's not even mentioning the orchestra, who played many times while dancing or otherwise performing, and even in one case scattered across the floor like scattered pieces from a chessboard.
In truth if there were anyone who deserved a standing ovation, it'd be them.