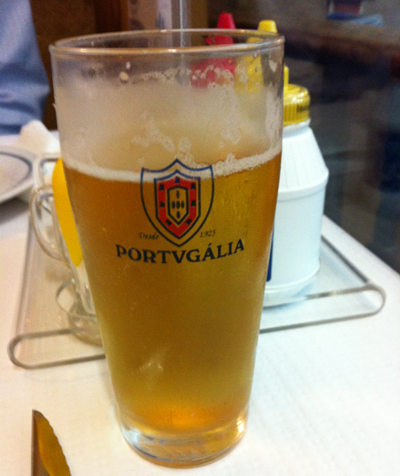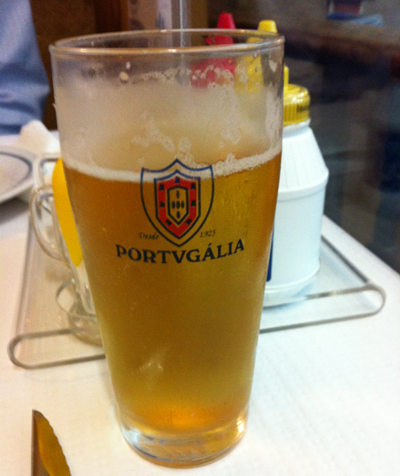 With so many ports of call – and being on the high seas – it's been difficult to keep you all updated every step of the way. But now that we're in Lisbon, we'll have a bit more time to update you all on our stops.
However, being full from a very good dinner at a place that makes one of the best sandwiches that I've ever had, and made Nic reconsider being vegetarian for a bit  – we thought we'd give some props to Portugalia, a restaurant that started as a brewery in 1925.
(Nic: And seriously, Gary will not stop talking about this sandwich.  He has never done this.  I think he's in love with a sandwich.)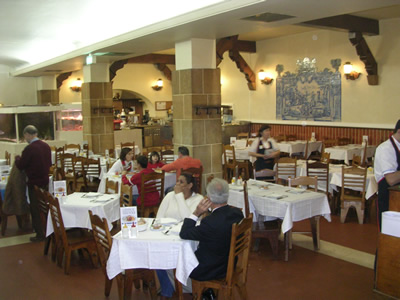 According to their website, Portugalia is 'the most famous beer hall in Portugal'.   The brewery itself started operations in 1912, but the beer hall – the cervajaria – was founded in 1925, when customers would go to the brewery themselves to have their barrels refilled.  It didn't take long for them to open a space with draft beer and food for waiting customers, and unsurprisingly, it was an instant success.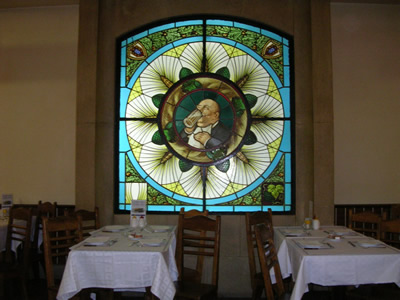 This has a lot to do with their beer – Nic chose the lager for the evening, and was rewarded with a light, crisp beer with a pleasant aftertaste. I instead went with my regular choice of rum and coke, but was nicely surprised when they came to the table and poured what would be a generous double of rum straight out of the bottle.
Their continued success also has a lot to do with Portugalia's atmosphere – bright, cheery and welcoming to locals and tourists both, with meat croquettes, crab spread, butter and fresh, crusty bread brought to the table when you arrive.  The food is inexpensive, filling, delicious, and perfect to have along with beer, wine and liquor.  Ideal bar food!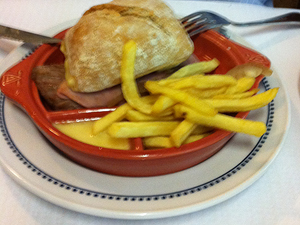 Nic's fluffy onion and parsley omelette with fries came quickly and was filled with fresh onion and herb, hot and ready with warm tomato on the side.  The aforementioned sandwich was a slice of top sirloin steak, dressed with a generous portion of ham, and an over-easy egg. A very simple meal, but the combination on some excellent Portuguese bread made for a great sandwich that I really can't stop talking about – and something I wouldn't normally order if you know me.
And maybe the most surprising thing (for North Americans, anyway) is that it's a family beer hall – while a Friday night in a pub in Toronto might not be the best place for kids, they're more than welcome at Portugalia.
If you manage to visit Lisbon, stop by their original location on Av. Almirante Reis or one of the many locations that Portugalia has all over the country – I promise you won't be disappointed.