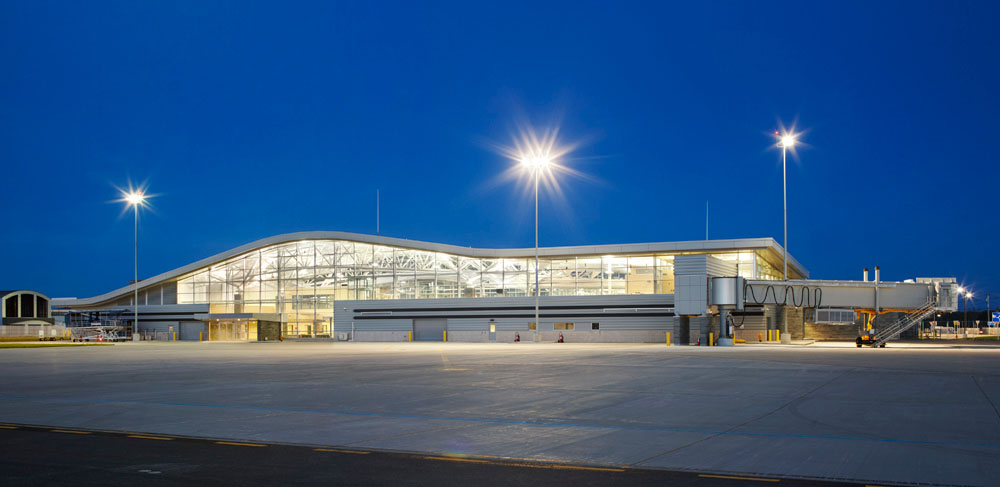 In our ongoing efforts to get places in the cheapest way possible, we went down to Florida in February via Niagara Falls (US) International Airport.  Not a lot of people actually know that this airport exists – when we mentioned it to people, they often said 'Oh, you mean Buffalo.'  Though Buffalo does have a rather nice airport that we've had the opportunity to spend a fair amount of time in – there is actually an airport in Niagara Falls.  One would be forgiven for not knowing this given the flight board we were greeted with:
The Niagara Falls Airport is so tiny that the security is basically only on duty to check in whatever flight there is for the day. Same goes for flight staff and concessions, so I suspect the whole airport operates on a similar basis.  It's not very well-known because it only services a few lesser-known charter airlines that offer sale prices to the public.  The one we travelled with was Direct Air.
It's a pretty bare-bones airline, which allows for the cheap prices – but will also allow them to charge $2.00 for a bottle of water.  One of the other airlines serving the airport, Spirit Airlines, is now charging for checked baggage as well. While Direct Air is not yet doing so, the fact that their contemporaries have started might indicate that it's coming soon.  Either way, I'd pack a lunch, as the options at the Niagara Airport, and the airport we returned from in Punta Gorda, Florida were limited and pricy.  The pizza they sold was even delivered  from a chain restaurant and re-sold!
Another thing that's pricy is the options to get there.  Getting from Toronto to Niagara Falls, Canada is better in the summer by far, but isn't too bad in the winter either; there's no GO Train service, but the MegaBus goes to Niagara Falls on a regular basis for somewhere between $12 – 18 a trip.  However, it only gets you to one side of the border.  There's no real way to go cross-border from the Canadian to the US side and take transit up to the Airport – so far as we can tell. If anyone is aware of different, please comment and correct me below!  Taxi service seems to be a better deal from the US to Canada – on the way there, we paid about $50 CDN; on the way home closer to $35.
If you want to take your chances with a bare-bones airline to get around the US, I think this is a good option – if you have a car or can get a ride. For us, round-trip to the Niagara Falls Airport can start at $140, not including snacks or food bought along the way – so it's not the best deal, but we're getting these tickets as gifts, so can't complain.  I'd just recommend that carless people look at Buffalo prices first – getting there is a way easier trip.
More on our Direct Air experience to come…
Have you ever flown out of Niagara Falls or another small regional airport?  How was it?  Let us know!