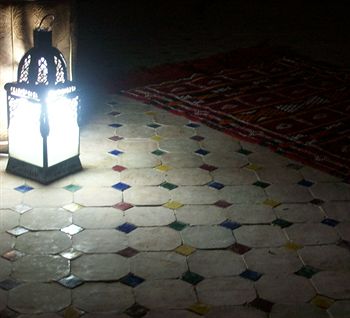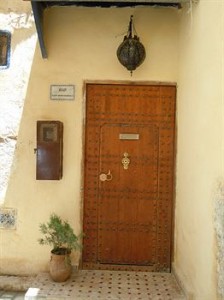 The Riad les Idrissides staff are kind and wonderful. Hadija, the manager, made us feel at home immediately and agreed to all requests with a genuine 'avec plasir.' Gary was very ill during our one-day trip through Fes, and was unable to really go out during the day – she even allowed us to keep the room before we left in the late afternoon with no extra charge, and refused our offers to pay for the extra time.
Tip: While their booking information indicates they accept all major credit cards, they could not take ours, so make sure you have dirham on hand.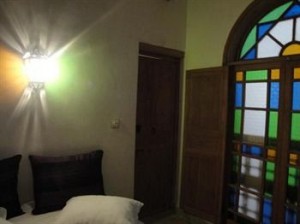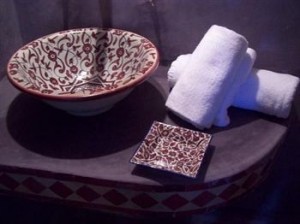 The staff were even concerned about his health and invited me to join them when I returned from shopping. Hadija, the cook/maid and their friends were sharing a tagine, and made me really welcome despite not understanding the conversation.
They also kept giving me food, on top of the generous spread they had earlier put out for breakfast!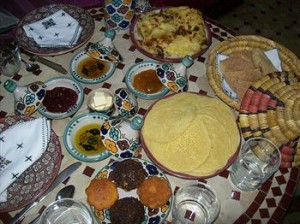 Wonderful people, lovely rooms, great location, right near Bab Boujloud and sellers of bread, olives and all great stuff. Situated in the city centre, the riad is close to the Jewish Cemetery, Royal Palace, and Der Batha Museum.
Some knowledge or understanding of French or Arabic will really help, as in most of Morocco. You do have to keep landmarks in mind to get to and from the Riad, as the medina is confusing (ie: turn left down the lane with the sandbags).
Tip: If you travel in the winter, the exposed courtyard can make the rooms a bit chilly – something to keep in mind. The bedding however keeps you nice and warm at night.