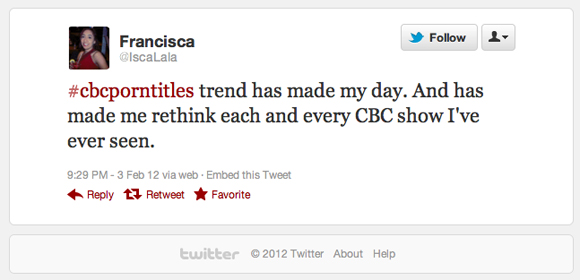 #cbcporntitles trend has made my day. And has made me rethink each and every CBC show I've ever seen.

— Francisca (@IscaLala) February 4, 2012
For the last two days, the hashtag #cbcporntitles has been trending in Canada — a trend that takes the titles of CBC Television and Radio shows and pornifies them.  This is a trend in response to a hue-and-cry put up by SunTV over CBC's French television arm, Radio-Canada, having an online show about a porn studio. (Full disclosure: I work for CBC in Toronto in social media.)
It's an interesting trend in that it was initially exposed to the SunTV viewing audience through Ezra Levant, one of their commentators, but over time, it's continued to trend on a wave of goodwill towards the CBC and its programming.  The trend's staying power requires the Twitter audience's knowledge of CBC shows past and present, and the references are coming out of the woodwork, from obscure radio programs to shows from the black-and-white era.
#cbcporntitles @cdnpoli Don Messer's Pube-a-lee — Shelley T (@Shelzadoc) February 3, 2012
Degrassi Streetwalkers #cbcporntitles — Antonia Zerbisias (@AntoniaZ) February 3, 2012
This Ho Has 22 Minutes #cbcporntitles — korey schaefer (@koreyschaefer) February 4, 2012
The trending hashtag could have been viewed by CBC as something to be handled, or a threat.  Instead, it was viewed as a positive — people are talking about CBC shows, reminding people of the CBC and its catalogue, and showing their knowledge of the brand.  There's very little that's bad about that, as long as the whole thing can be viewed with a sense of humor.  Though not too many official accounts got in on the action directly, some re-tweeted some tweets related to their shows, while @cbcdocs took the trend as an opportunity to promo to upcoming doc 'Sext Up Kids'.
coming soon to #dozone Sext Up Kids #cbcporntitles But this one is for real ;) ow.ly/8Rw6P — cbcdocs (@cbcdocs) February 3, 2012
@22_Minutes Erotic Air #cbcporntitles — Pauline Kerr (@casey0592) February 3, 2012
Enjoying and encouraging a social trend that not only celebrates the brand in a fun way, but also reminds people of the network's full range of programming, from radio to news to entertainment can only make the CBC look less stuffy, more 'cool', and like they 'get' social media.  Many of the tweets that have commented on the trend have remarked on the 'Canadianness' of the hashtag and how awesome it is that Canadians (and the CBC) find the whole thing hilarious.
to be clear, the reason I like #cbcporntitles is because the #CBC is open minded enough to appreciate the humor. Long live the CBC. — Michael Brechtel (@mbrechtel) February 3, 2012
i have to say #cbcporntitles is the best hash tag i've ever seen in my tweeting days. i'm feeling ridiculously childish (and canadian)

— garconniere (@garconniere) February 3, 2012
#CBCPornTitles is trending on twitter. ROFL only in Canada!

— Sheetal Reddy (@castielz) February 3, 2012
It's like they say – no press is bad press, even online.
CBC Radio, @cbcradio is now trending in Canada trendsmap.com/ca

— Trendsmap Canada (@TrendsmapCanada) February 4, 2012
The views expressed are solely those of the author and in no way represent any official position, plan or strategy of her employer.