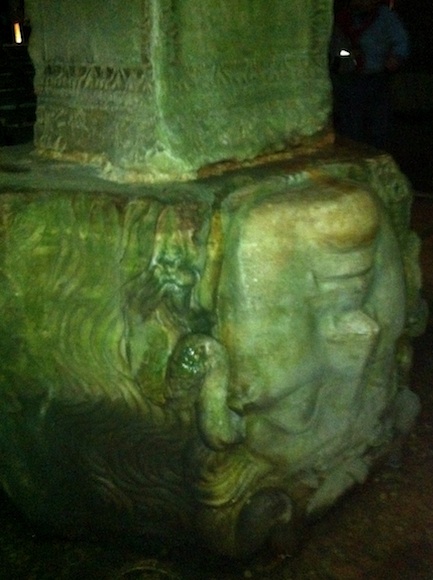 Originally constructed between the 3rd and 4th centuries of the Early Roman Age as a commercial, legal, and artistic centre, the Basilica derives its name from the large public square it was constructed beneath.
The Stoa Basilica stood on the First Hill of Constantinople, and was said to contain gardens enclosed by a colonnade that faced the Hagia Sophia, before later being converted into a cistern – reportedly requiring the manpower of some 7000 slaves. This allowed for the buildings of the First Hill – including the Topkapi Palace – to be outfitted with a water filtration system. At the height of its use, the cistern had the capacity to store 100'000 tons of water delivered over 20km of aqueducts from a reservoir near the Black Sea.
However over the next century it would need to be reconstructed twice, once after a fire in 476 CE, and then again by Emperor Justinian after the Nika riots devastated the city in 532. Like many of the other sites we visited during our cruise after the stay in Istanbul, the majority of the columns have likely been brought from various parts of the empire, and even those used in the construction of the nearby Hagia Sophia – clearly evinced by the varieties of marble and granites found throughout their number, and the different carving and engraving techniques used in their construction.
Since its rediscovery the Basilica Cistern has had to undergo several restorations, as the Ottomans often used the "Sunken Palace" as a dumping ground for all manner of junk and even bodies. Most recently the cistern has been used as the backdrop in a memory sequence entitled the Yerbatan Cistern in the 2011 video game Assassin's Creed: Revelations. But has also graced the silver screen in the 1963 James Bond film From Russia with Love.
Related articles