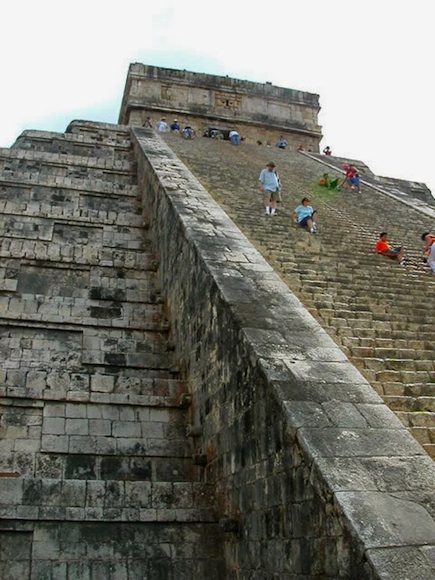 Chichen Itza is in fact the first Heritage site Nicole and I visited together thanks to her parents, who organized a family trip down to Mexico for Christmas a few years back. And even though climbing the Castillo is no longer possible due to the wear that was being done – when we were there the steps were looking pretty worn – there's still quite a few buildings that have survived upon the grounds, and is a rather expansive site to explore – well worth the drive out.
Perhaps one of the greatest Mayan sacred sites on the Yucatan peninsula, the fusion of Mayan and Toltec civilizations from the tenth to the fifteenth centuries certainly makes it the most important example of this union, found upon almost every inch of the monuments and artistry that comprise the grounds of Chichen Itza. Located between Merida and Cancun, Chichen Itza is the northernmost of the major archaeological sites in the Yucatan. Established close to two cenotes – which we were able to visit one of afterwards, and proved for a refreshing stop after the building heat of the day – sometime between 415 and 455 CE and was already boasting important monuments as early as the sixth century. The Chichen Itza we recognize today came into being with the arrival of the Toltec warriors who migrated from the Mexican plateau. After years of wandering the King of Tula – Ce Acatl Topiltzin Quetzalcoatl – took over the region between 967 and 987, and subjugated the local population to the practice of human sacrifice. However by the time of Bishop Diego de Landa's visit in 1556, Chichen Itza was practically deserted and would not be excavated until 1841.
It was named a World Heritage Site in 1988.