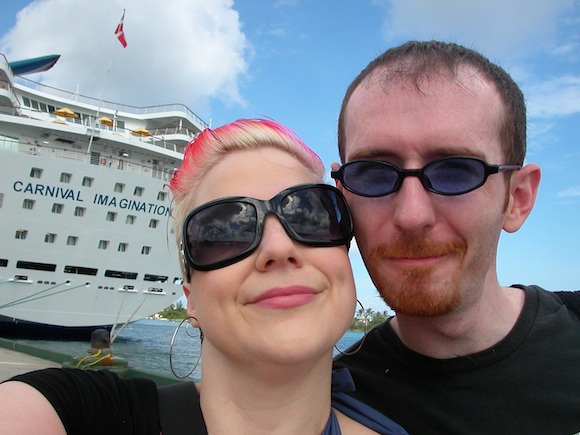 For my 2010 birthday we decided to take a short cruise out of Miami. Deciding to indulge in my enjoyment of eating my way across the world, we decided to go with a food themed itinerary for the trip and ended up opting for a galley tour and seating at the Head Chef's table. Chef Ajit was even kind enough to do a short baking demo and showed us how they make the much coveted Carnival Molten Chocolate Cake. You can make out most of what he says, but those interested in the recipe and instructions can find them below. This is the short version of the video and runs just over 6 1/2 minutes.
Things You'll Need:
8 oz. semisweet chocolate
1 cup butter
8 white oven-safe ramekins
Mixing bowl
7 eggs
6 tbsp. sugar
1/2-cup flour
Powdered sugar
Instructions (serves six):
1. Preheat the oven to 375 F.
2. Melt the chocolate and butter together in a double boiler
3. Lightly grease the ramekins.
4. In a mixing bowl, whisk four of the eggs together with the sugar. Add the flour and whisk well again. Add the three remaining eggs and keep whisking until the mixture is homogenous.
5. Add the egg mixture to the chocolate mixture and mix well. Pour the batter into the individual ramekins.
6. Bake for 15 to 20 minutes until just done. The interior of the cakes should be melty and soft when you remove them from the oven.
7. Sprinkle the tops of the cakes with a little powdered sugar.