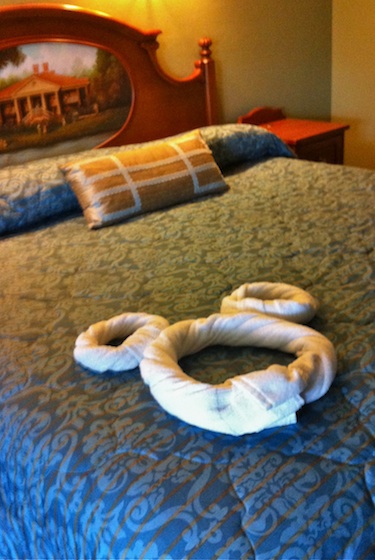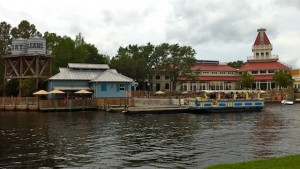 As we've written about before, we spent my birthday this year at Walt Disney World, and we really enjoyed it – enough to consider a return trip in the near future! Part of what made the trip so easy and fun was staying at a Walt Disney World resort, so we thought we'd post a bit about the pros and cons, and what we liked about our time at Port Orleans Riverside.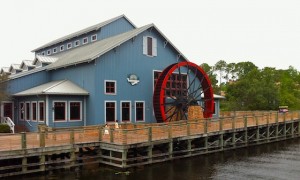 Port Orleans Riverside is in the 'Moderate' category of resorts, which is to say, it's not the cheapest resort, but  there are nicer in the category, and two nicer categories after that. The resorts that you'd traditionally think of when you think 'Disney' are the Monorail resorts – Polynesian, Grand Floridian, and Contemporary – and they are amongst the most expensive on the property. This makes us sad, as we really like them. Perhaps one day.
We also really like Riverside! It's a lovely, quiet, homey resort themed to the Mississippi-bayou area of the Old South. The Sassagoula River winds through the Resort, heading downstream to Port Orleans French Quarter and the Downtown Disney area. The resort's main building features an operating cotton press with a working waterwheel. Riverside also features the new Royal Guest Rooms – rooms that Princess Tiana created for her Princess friends to stay with her, and has opened to some lucky little kids (and adults, no doubt!).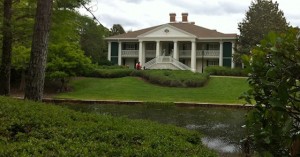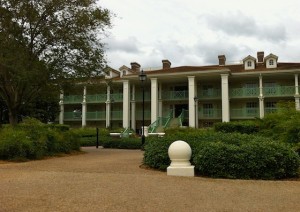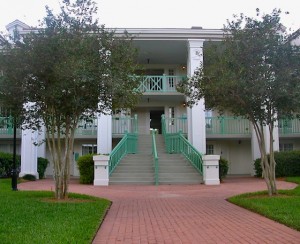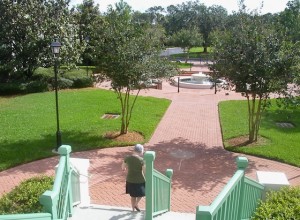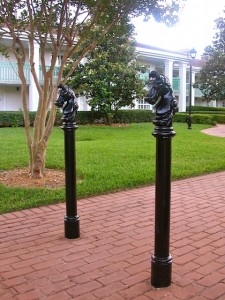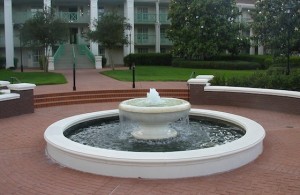 We stayed in a King room, which came at a small premium. At the time, the resort was under renovation – we requested a renovated room near transportation and with a view of the river, if possible, and we got our requests.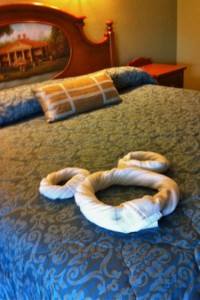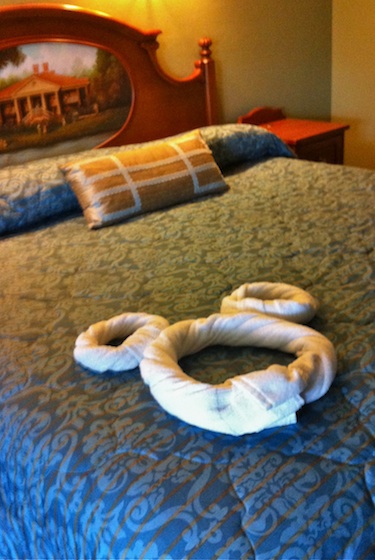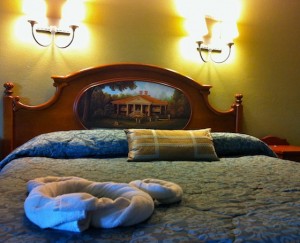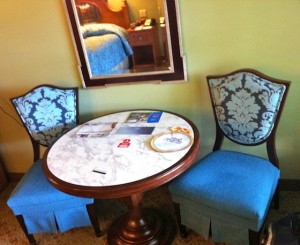 Pros of Staying at a Disney Resort:
The Disney Transportation System: If you fly into and out of Orlando International Airport, the Disney Magical Express will take you to and from your resort. We didn't have to wait too long for our bus there, but if you're in need of food or coffee, best go for it upstairs before you hit the line.  Once you get to the park, you can travel via the Disney Transportation buses to the parks and between the resorts (though not directly). The buses run regularly until around closing time at Downtown Disney and Boardwalk. We found these invaluable and speedy – and even if they were crowded, it was still better than rush hour on the Toronto subway. We loved being able to walk over to a stop and get to a park in about 20 or 30 minutes without worrying about driving.
Theming and Atmosphere: Disney is excellent at the details, and they make sure to get them right in all their resorts. Every one we visited had interesting and special details that fit the theme and make it 'Disney' besides. At Riverside, the pool and campfire area is on 'Ol' Man Island', there are beautiful Southern gardens, and the rooms are in rustic cottages, or stately mansions along the river. We found it felt like part of the World, but not like being at the park – just that things were taken care of.
Activities and Amenities: Riverside doesn't have as many amenities as some of the larger and more upscale resorts, but there's still quite a few. There's a restaurant, a food court, a 'general store', an arcade and two bars – one with a piano player that we hear is quite a draw. There are movies every night and campfires, boats and bicycles for rent, and steamboats to Downtown Disney, if that's not enough for you. Or you could walk over to French Quarter, Riverside's sister resort.
 Send Purchases to Resort: Buy something in a park? Why carry it? Send it to your resort, pick it up later.
 Charge to Your Room: Your 'Key to the World' is not only a key to your room, but also good for charging purchases anywhere in the World. So, you could theoretically carry no cash.
 Service is Excellent: When I checked in, she said, "I see it's your birthday! Let's get you a button!" When Gary had an issue with the vending machine, they gave him a no hassle refund. We never felt rushed by 'mousekeeping', and we are so, so slow in the mornings. So many little things made service great – and we've had some pretty decent service in our time.
Cons of Staying at a Disney Resort:
Price: It's definitely more expensive than other options in the area.
Pricier Food:  Food at the resorts is more expensive than off-site options – however, if you're accustomed to paying big city prices, you might not mind all that much. Options to cut costs are ordering groceries to the resort (most rooms have small fridges, and DisBoards.com posters are experts on the process), or if you're a big eater, going on the Disney Dining Plan.
 Cabs Aren't Cheap: If you want to take a cab after hours, it may cost a little to get around. If you're used to Toronto fares, you won't cry. If you're used to NYC, you will be a little peeved.
Resort to Resort Transport Takes Time: We didn't try to go from resort to resort on Disney transportation, but we hear it can be a pain. If we do, we'll report back.
 Too Much To Do, Not Enough Time: If you're there for a short time and spend most of your time in the parks, you may feel like you didn't get the chance to enjoy the resort. We definitely felt that way.

Things We Liked:
The TV had ports for anything that you might be interested in connecting, which was great – we had no time for it, but techies will love it!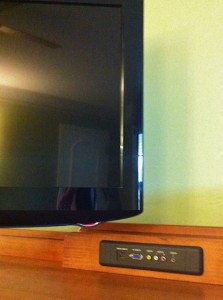 FREE WIFI! All Disney Resorts now have free wifi, which I was happy to use! It's not always the fastest, but you can get things done.
We thought the room was pretty spacious, but there were only two of us.
We didn't have to deal with a car rental. Since I'm the only one who can drive, that's a nice bonus.
Gary liked that the Arcades in the resorts had a good selection of games.
Riverside had lots of quiet outdoor space to sit, and the paths were well-lit and wide enough for walking, jogging and biking.
The stores at the resorts had a great combo of souvenirs and staples, booze included. We enjoyed the General Store at Riverside in particular.
All the Disney cast members were super nice and talkative and fun.
What's the conclusion? If you're willing to pay a little more for convenience, proximity, atmosphere, or all three, it's worth considering an in-World stay.  If you're not a Disney fan or are wanting to cut costs, off-site might be your best plan.
For us, we enjoyed it enough – and found the transportation system convenient enough – to make it likely that our future stays will be at Walt Disney World.