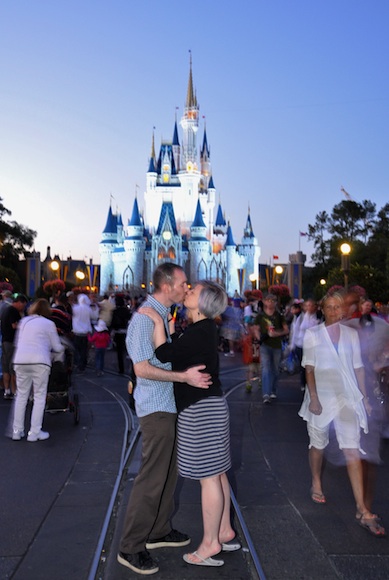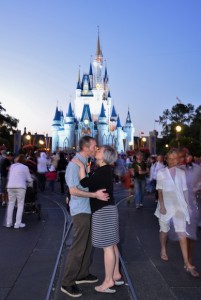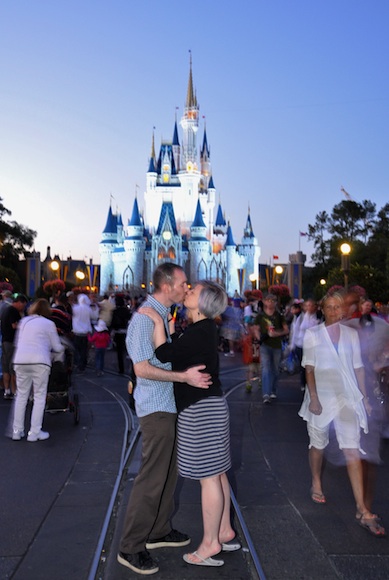 Here's the short version, if you want to get the lowdown upfront: If you want to have one of the best birthdays ever, have it at Walt Disney World. Or anniversaries, or engagements, etcetera – every celebration at Disney was amazing, right down to the Sunshine Seasons staff at EPCOT travelling in a band through the food court, looking for people to put on a chair and sing in honour of.
I'm not really sure what had me thinking of Disney World – maybe it was an ad, maybe it was a contest – but there was a point where we decided going for a few days over my birthday would be the best idea for this year's trip.  I hadn't been to Disney World in years and Gary had never been at all, we could take some time to visit my parents and take advantage of super-cheap Florida stores, and it seemed like a natural place to spend your birthday.
What I'd Heard
When I looked into it, it seemed like was exactly the place to spend your birthday.  People on DISboards.com and the Mom's Panel on Disney's official site both mentioned that it was important to get your 'Happy Birthday' button so everyone could see it was your day, as did a friend who had recently gone on a family vacation. (In fact, I didn't even need to get a button for myself because the lovely lady who checked me in at Port Orleans Riverside made sure I had one right away!) When we made our advance dining reservations, there was also a place to add a celebration, so they knew what we were coming for.  The advice out there cautioned that you might not get a lot out of it being your birthday – the ropes do not part and freebies don't fall from the heavens – but if the Disney people could make your day better, they would do their best.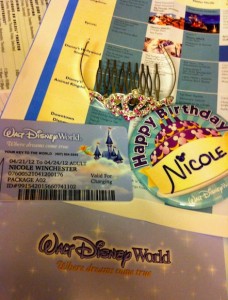 My Birthday at Disney World
My actual birthday was fabulous. If you love making your birthday truly your special day, I would recommend the Walt Disney World birthday experience.  I wore my birthday button for all four days I was there, three of which I was at the parks.  Everyone from characters to line attendants, stilt walkers to street sweepers wished me a happy birthday, most often with a big smile.  Even if I told people it wasn't my 'actual birthday', they didn't care and said 'you're celebrating anyway!'  A lot of them complimented my hair (even the Princesses! OMG!).  With our tea at the Grand Floridian, I got a rose.  At Cinderella's Castle with breakfast, a lemon cake with buttercream and a candle in the top.  At the California Grill after dinner, a layered dark chocolate cake with a happy birthday atop it, after I got all sappy and sniffly over the Wishes fireworks show that night.  So wonderful, even on such a chilly night (even for Canadians!)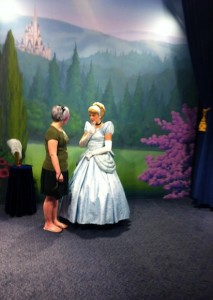 In fact, when we went to ask about calling a cab because it was so cold, the Bell Captain at the Contemporary Resort made sure I got my call from Goofy, singing 'Happy Birthday', and gave us both stickers before we left.
I am sure that Disney can be much more frustrating and annoying at higher-traffic periods.  But at a time where crowd levels were moderate, we had a great time.  People made a sincere effort, even at busy times, to be nice to me because I was celebrating my birthday.  I will say, however, that we noticed that we got a lot more attention on the slower days, like the Sunday we were there – of which our parade video below might be an excellent example.
Celebration Parade Video
Gary shot this clip of the 'Move It! Shake It! Celebrate It!' Street Party as we caught it going by.  You might notice it starting with a 'Happy Birthday' and me calling out a lot of thank yous – there was also a little boy next to us, Javier, who was turning 5, and pretty happy about it.  If they saw our names, they said them.  That's pretty awesome.