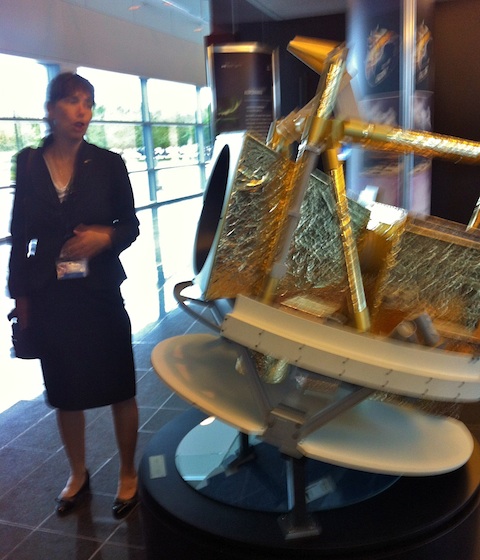 While the Canadian Space Agency wasn't officially established until December 1990, its roots stretches back much further to the end of the Second World War and the following fifteen years as Canada undertook a number of small launcher and satellite related projects. From this would come the development of the hugely successful Black Brant sounding rocket, resulting in over 800 versions being launched since it was first produced in 1961, and still remains one of the most popular sounding rockets seeing repeated use by both the CSA and NASA. Along with a series of studies examining both orbital rendezvous and re-entry, these investigations were largely a military enterprise being done under the aegis of defence research.
Such research however would allow scientists and engineers at the Canadian Defence Research Telecommunications Establishment (DRTE) to go on to develop Canada's first satellite. Known as Alouette 1, the satellite's launch in September 1962 would make Canada the third country to put a man-made satellite into space and establish one of the most progressive space programs at the time. Though it should be noted Canada only possessed upper atmosphere launch capabilities at the time, and that NASA was responsible for actual deliver of Alouette 1. Its true success however was the technical expertise employed in its design and construction that resulted in a lifespan of ten years instead of the one originally projected during its development. This would allow Canada to go on to become the first country to establish its own domestic geostationary communication satellite network in 1972 with the launch of Anik A-1.
These and the other growing number of space related activities over the 1980s became the final impetus for the Canadian government for establishing a space agency of their own with the Canadian Space Agency Act. Despite its more militaristic roots, the mandate of the CSA is to promote the peaceful use and development of space while advancing our knowledge of space through scientific exploration and in turn developing those findings into social and economic benefits for Canadians and humanity from its headquarters at the John H. Chapman Space Centre in Saint Hubert, Quebec. To this end the agency not only operates out of the Space Centre, and its other offices in Ontario, but Washington, D.C., Cape Canaveral, Florida, Houston, Texas, and Paris, France, as the CSA often collaborates with NASA and the European Space Agency (ESA) on a variety of projects.