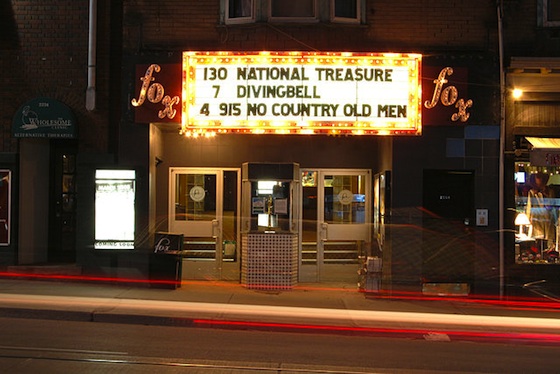 The Fox Theatre from Ryan Couldrey on Vimeo.
Located in the Toronto neighbourhood known as the Beaches (at the intersection of Queen Street and Beech Avenue) the Fox Theatre has been in operation since 1914 when it was first known as the 'Pastime Theatre.' However even that name was short lived, as less than a year later it would be rechristened the 'Prince Edward' in a patriotic response to Britain's declaration of war against Germany. It would be in 1937 that the theatre's name changed for the last time to the Fox Theatre. It is now the second-oldest movie cinema in Toronto (after the Revue Cinema) and recently underwent an extensive restoration to reopen in October 2007 with 250 plush new reclining seats, with touches like the 1930s-inspired carpet, the old-fashioned popcorn machine and chalkboard menu in the concession stand, classic movie posters, and even the original Prince Edward stain glass sign, helping to remind you of its long past.
With only a single screen the current operators Andy Willick and Daniel Demois have found innovative ways to keep the theatre going, showing a mixture of second-run movies, independent and foreign films, as well as many classic favorites, but has also opened its doors for private rentals advertising options like Wii parties – which personally sounds like an awesome way to put that screen to use.
The above short is a project a friend of ours did out of love for the Fox Theatre, so please feel free to share this around.