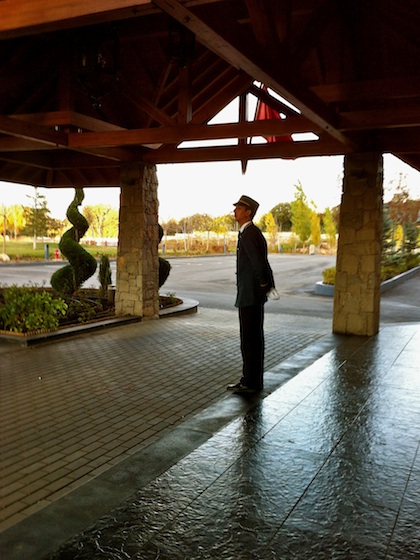 Both times I've been to Ifrane, I was pretty sure I was going to die.
The first time, I'd been up for over 24 hours and Gary and I were as yet unused to the joys of travel in Morocco by Grand Taxi, so could be forgiven for equating the lack of seat belts or traffic rules with possible death. The second time, we'd gotten used to the whimsical aggressiveness of Moroccan drivers (in comparison to our boring ordered traffic), but it was night and dark and winter, making the roads terrible and visibility poor as we got higher into the mountains. At one point, a late-model Mercedes zipped past us and we all laughed nervously; the driver made the international sign for 'crazy' beside his ear.
The Mercedes was on the road before us one second, red lights spinning in the air the next.
Our driver stopped, as did many others to check on car and driver in the ditch. As all seemed all right and in-hand, we continued onward and upward, into the clouds with a deep sense of foreboding. When the glow of Ifrane appeared, I'd never been so happy to see a town in my life. Gary tipped the driver and the driver hugged him. I sort of felt like we'd been through something together by the end of that trip.
If we'd been taken to the fabulously luxe Michlifen Ifrane after that ride, I might have been forgiven for thinking it was heaven. Ifrane is a tiny Alpine-style town tucked away in the Atlas Mountains, mainly known in Morocco for its short ski season, for its relatively cool climate in the hot summer, and its university. The Michlifen Suites and Spa started out its life (as we understand it) as a casino and condo project that sat empty for a time before being developed into the stunning property it is today.
Though you can get to the Michlifen by foot from the main town square area, the best and easiest way to arrive is via petite taxi, which are inexpensive and easily found at the Marche or in the main town square. I note this mostly because the hotel is at the top of a hill at the end of a long drive, and has a gatehouse – so it might be better than approaching on foot.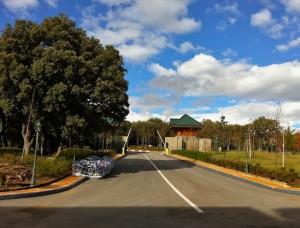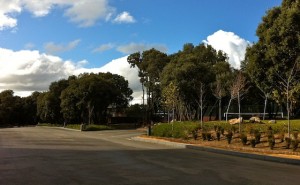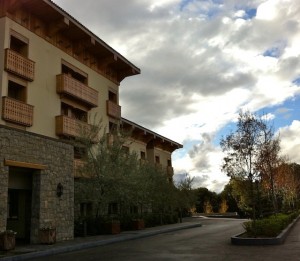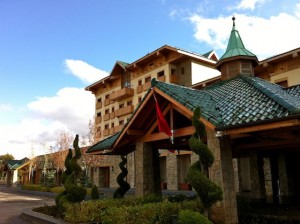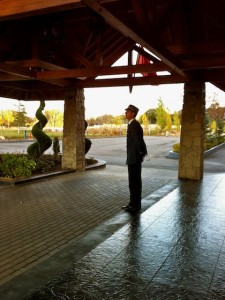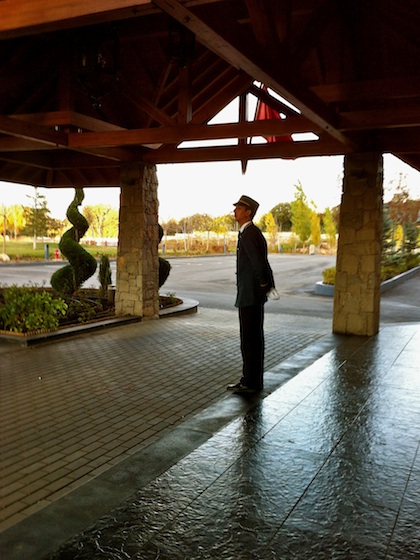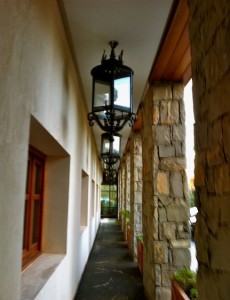 When we came in, we let the staff know we were just there to have a drink and take a look around, maybe some pictures. They were fine with that, and were very gracious the entire time we were there – and it may have been quite easy for them, as we practically had the whole place to ourselves. Only a couple of local women visiting the spa sat nearby for a time, but otherwise, the place was empty until around dinner, when people began arriving for the restaurants.
I ordered coffee first – this is what it came with. I was glad to have the water, as I often find I get coffee pasty-mouth after/during coffee:
We also had a couple of drinks, and though they were a bit pricy, however having a drink in a fancy bar in a Muslim country is something that's worth a little extra now and then.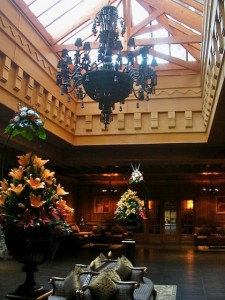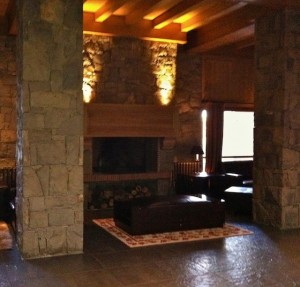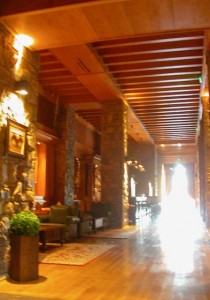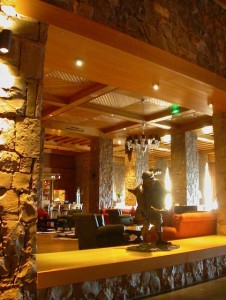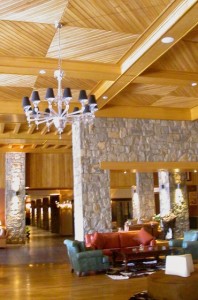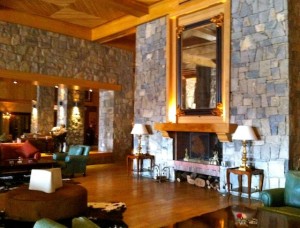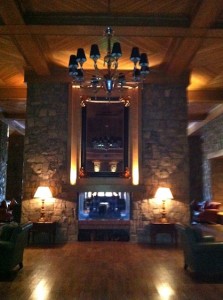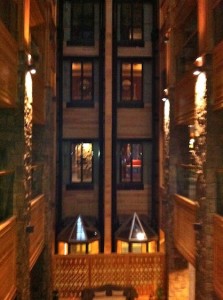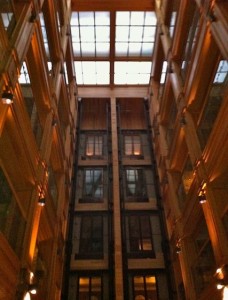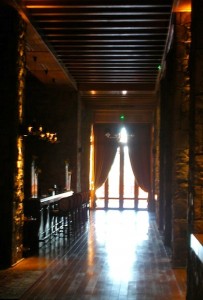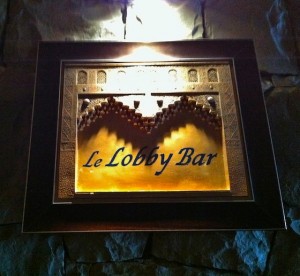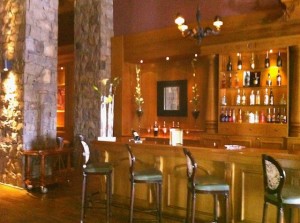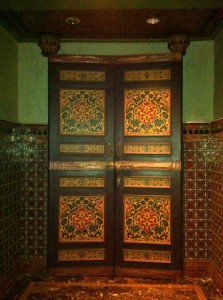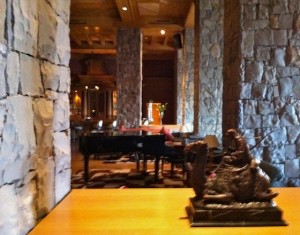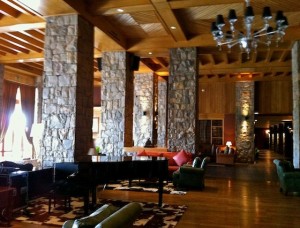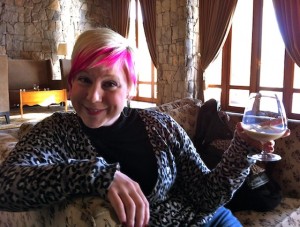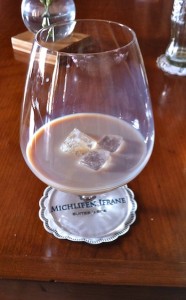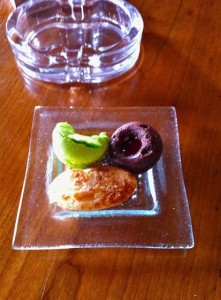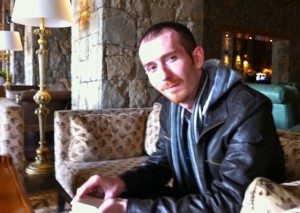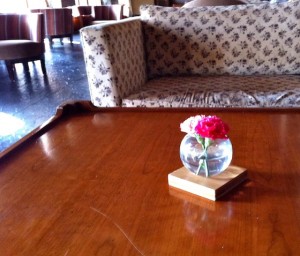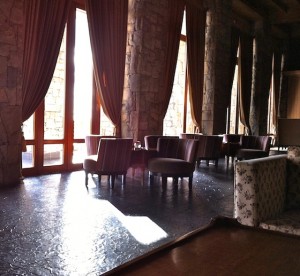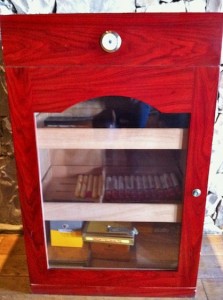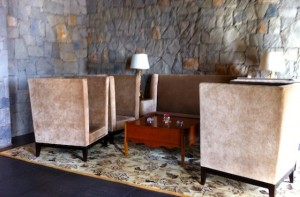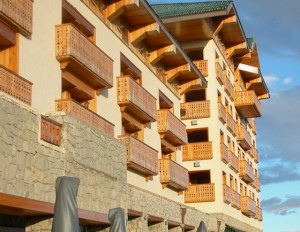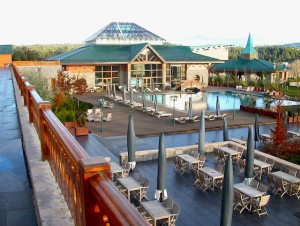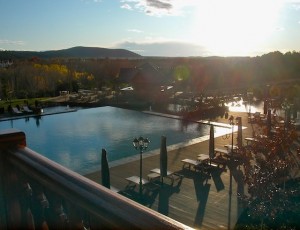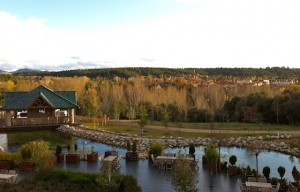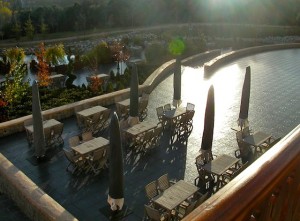 In terms of grounds and decor, the Michlifen can easily stand up to many 5-star hotels in North America and Europe. Gary and I agree that it's amongst the best hotels we've been to, and we've visited some excellent hotels. If the rooms are up to the standard that the public areas are, it's at least up to the standards of Toronto's Royal York, if not better. There's skiing two months of the year, horse riding, mountain biking, fishing, a sport hall for basketball, tennis, volleyball and more, an indoor and outdoor pool, a 6-lane bowling alley, conference centre, three restaurants, a private heliport, 24/7 concierge and a full luxury spa and hammam. It's difficult to think of an amenity that the hotel doesn't have.
This might have something to do with the hefty $300+ USD a night price on the rooms, but that does not deter the rich of Casa and Marrakech from coming up for a weekend of relaxation in the mountains. There are four styles of 'mountain' decor used in the rooms, and two types of suites available. If you have the budget for the Michlifen, it's definitely a hidden gem that can offer you pampering away from the heat and the crowds in the rest of Morocco.
Michlifen Ifrane
Avenue Hassan II – BP No 18
Ville d'Ifrane – Maroc
info@michlifenifrane.com
Check out reviews on TripAdvisor!