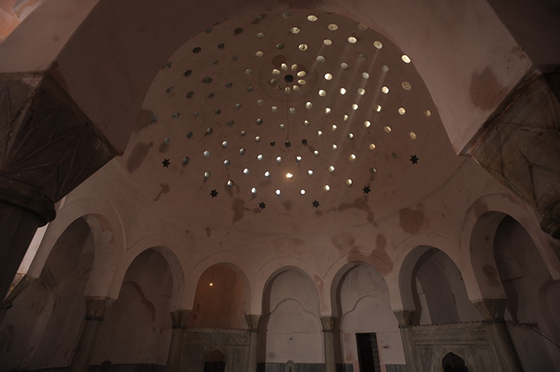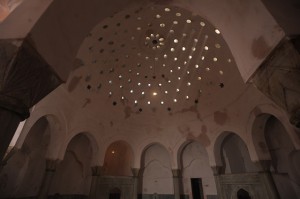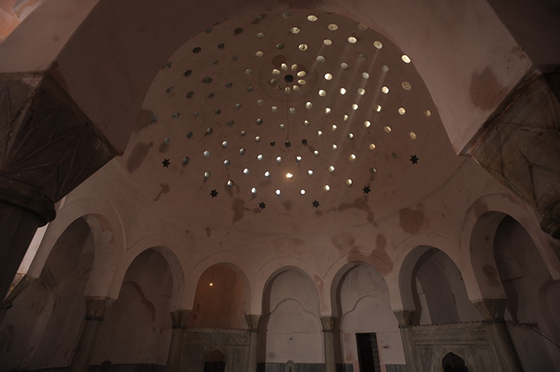 I love to travel, but long flights make me really angry. That's… kind of inconvenient. I hate being trapped in a plane with a few hundred other people, a few of which seem to take the hours we're stuck together as an opportunity to revert to their animal state. If you've flown (or bussed!) over four hours, you likely know what I'm talking about. People are gross, and when you are done with multiple stops/airports/hours with them, you are also gross, no matter how hard you try to be otherwise. So, when we went to Istanbul, my plan was to go to a hammam and get multiple hours of gross scrubbed off me ASAP. The idea energized me to the point where I was excited to head out even after visas, customs and jet lag.
When I told the staff working at the wonderful Esans Hotel that I was going to Çemberlitas Hamami within hours of our arrival in Istanbul, they quickly consulted before sending me out with one of the young men who lived nearby and could walk me over. It was very much appreciated, as my sense of direction is pretty good most days, but dirty and tired and after dark, cities can be pretty confusing. I also got to chat about the city with someone who lives there, which I always enjoy — and he got to practice his English, which was pretty excellent to start. (If you're interested in a place to stay, check out our Esans review!)
He was also kind enough to speak to the woman working there for me – I don't know what he said, but when I ended up paying for my bath and massage, it seemed to be cheaper than the website had listed. I wasn't about to complain! Apparently, walk-ins are fine at the larger and more 'touristy' hammams, but appointments may be required at more expensive and exclusive locations. Some have called Çemberlitas a 'touristy' hammam, but I saw as many Turks as tourists making use of the facilities. Some of the locals tell me there are better hammams for less money, but if you're looking for a place that's comfortable for Westerners and other tourists, it's a good choice.
On paying for your services at the booth at the door, you're given your chits for whatever you've decided on, and a bath wrap, and directed to the change rooms (women's or men's), where you'll also get a towel and sandals. At Çemberlitas, there are multiple lockers to store your things, with keys you take with you — and as with many Western spas, there are separate change areas for those who prefer a bit of modesty.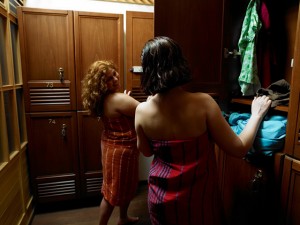 Speaking of modesty, at Çemberlitas, the hammam attire seemed to be a sort of 'what you're comfortable with' sort of thing; some people (mostly tourists) wore swimsuits, while others (mostly Turks) strip down to underwear or nothing. It seemed most common for people to wear just underwear, so if you choose to go that route, you might want to bring extras for after, or buy disposable panties on site.
Once you're ready to go, you'll be directed into the hararet — the hot room — usually marble, with a large dome, several basins and washing areas, and a large flat marble slab above the heating source for relaxing. If you're not sure where to go, they'll show you — and put down your chit so they know you're up for a wash. Lying on the marble is really relaxing, especially if you like saunas or steam rooms, and you usually get about 15 or 20 minutes of that before it's time for a wash. The bath attendants don't wear much more than anyone else in the hammam, and they wash people for a living, so they're not concerned with much but getting the job done. You'll be lead over to one of the basins and soaked with warm water, then back to the marble slab, where you will be sudsed up with a big foamy swab, then scrubbed down. If there is any dirt on you, it will not survive this lady's purge. After the scrubbing, there is more soaking, and then she'll wash your hair.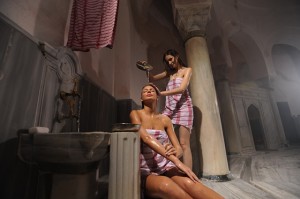 I was then able to spend some time in the hot pool afterward before getting a dry wrap and towel and waiting for my head massage, which was done in a private room upstairs. I've read a little in other posts about tipping attendants – I can't remember if I tipped my masseuse or not, but I can't imagine how I would have tipped any of the attendants really; there's simply no way to carry money around unless you wear something with pockets.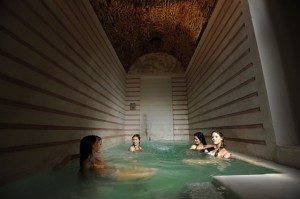 I'm a Finn by blood, and as such am likely predisposed to both communal bathing and getting my steam on, so it's not a shock that my time at the hammam had me feeling clean and FIIIIIINE for a human who had been in transit and unable to manage even drugged sleep for over twenty-four hours. Even getting lost on the way back to the hotel didn't concern me. I was only concerned that my parents, on a later flight, might think I was dead. (They're another story.)
Çemberlitas Hamami is located on Çemberlitas Square on Divanyolu Street, in the midst of some of Istanbul's greatest monuments. Visit http://www.cemberlitashamami.com/ for prices and info. Another hamami that is not only historic, but has good reviews and is in the same area is: http://www.cagalogluhamami.com.tr/
NB: Turkey & Human Rights: Though Turkey's media regulator refused to censor coverage of this year's Pride celebrations in Istanbul, there are regular hate crimes toward the LGBTQ community, particularly a number of murders of trans* women around the country.