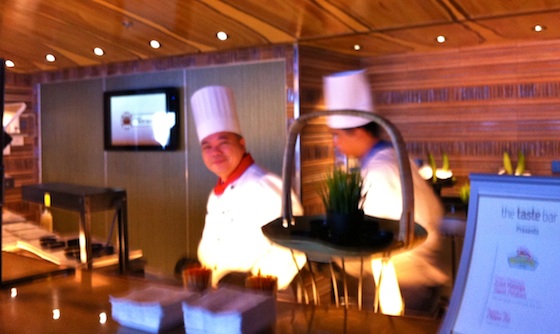 First and foremost we'd advise you to take advantage of the Faster to the Fun package when booking your cruise. At only $49.95 for everyone in the cabin, very good value in our opinion for all of the perks it includes. For example we'd opted for the My Time Dinning knowing it unlikely we'd make a set seating time, but always got priority seating rarely ever having to wait. It also provides access to a dedicated phone number and priority line for Guest Services who without hassle refunded an excursion we weren't going to be able to make. And though we didn't take advantage being the late risers that we are, it also gives you priority tender boarding on the ships going out to shore to the day's port of call.
If you've spent any time with Nicole you know she can't go very long without some form of access to the Internet, and so when we heard that Carnival's Glory was offering 24-hour shipwide Wi-Fi coverage we had to check it out. And given we were there for the week the $55.99 we paid for 120 minutes coverage wasn't bad. Access was certainly slow at points, but more than manageable – especially when you factored that you were out at sea not that bad at all.
There was a specialty Steakhouse restaurant onboard but with a fee of $35 and little on the menu that was vegetarian friendly we passed. However given the food to be enjoyed in the main dinning room and the multitude of kitchen stands scattered across the pool decks offering a variety of cuisines ranging from tacos to fish and chips we certainly didn't feel like we were missing out on anything. On one of the sea days we even got to try out some of the tasty signature pub fare being unveiled.
They also offer the CHEERS! beverage package but at $49.95 per day for all you can drink alcohol we were pretty sure we would have been hard pressed to get our value out it.
Do remember that gratuities will need to be settled as part of your final bill and will be included then. For the two of us that worked out to be $80.50 each, but when you consider how many people that it goes to, a reasonable surcharge.
$3.70 per day (for each guest) to the Stateroom service team
$5.80 per day (for each guest) to the Dining room service team
$2.00 per day (for each guest) to the Alternative services team
Just remember to factor it in when you're budgeting for your cruise.