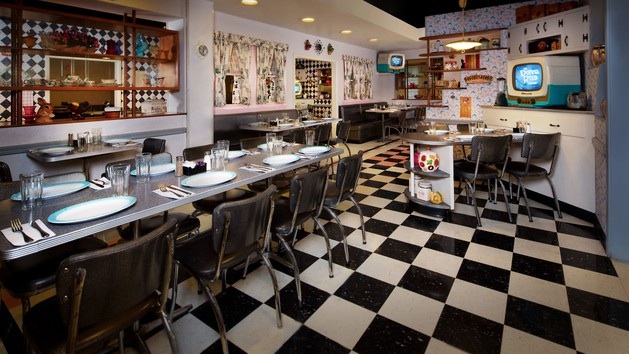 Our day at Hollywood Studios was excellent, really: we saw a Maleficent preview clip, we rode Star Tours at least three times, we actually made Toy Story Midway Mania, and Nicole met Stitch. There were also drinks and free cupcakes, and Mulch, Sweat and Shears – so when it came to dinner time, we were ready to both sit down and get some food. The 50's Prime Time Cafe was on the schedule for the night, and Nicole was looking forward to a drink.
The joint was jumpin' (as they'd say in the 50's, we guess), so we had to wait a bit even with a reservation. We took a seat at the bar in the Tune-In Lounge, and while Gary took some pictures, Nicole continued with the margarita theme of the day (she'd had a trio on the Brown Derby Patio earlier, review to come), and ordered a Patrón Platinum Margarita – Patrón Silver Tequila, Cointreau, Lime Juice, and Sweet-and-Sour. It's a steep USD $10.75, which is pricy even by Toronto standards, but the bartender there at the very least mixes a mean one.
There would have been more with dinner, but the Dining Plan makes that a little awkward (and well, yes, the price). One non-alcoholic drink with dinner is fine if you're not drinking, but if you're going to have a margarita or wine with dinner, forgoing the drink or using it for coffee is the best you can do, unless you like to drink Coke AND something else at the same time, though Gary does find the rum selection at WDW to be lacking. At Kouzzina, Lynn, one of WDW's best waiters, made sure Gary took a water bottle with him so his credit didn't go to waste, which is another option. It's another way we found that getting the max value out of the Dining Plan requires some strategy.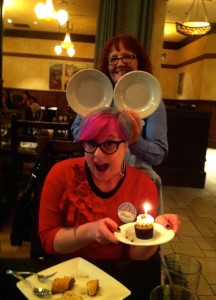 "Cousin" Robert was our waiter, in a section with even more Torontonians fleeing the cold – we'd met them everywhere while we were visiting! The restaurant is divided up into smaller sections, so it looks more cozily like someone's kitchen in the 50's, and it was fun to point out all the knick-knacks and furniture that we recognized from family homes. There are TVs everywhere, with clips of old shows and old commercials. Your "cousins" do come and yell to the "Winchester kids" that it's time to eat, and might even get told to keep your "toys" (phones) away from your dinner, or your elbows off the table, but it's all in good fun.
The chef was kind enough to come out to chat with Nic about her food allergy (red meat) and the vegetarian options on the menu. She went with Sissy's Vegetarian Favorite Multigrain Spaghetti, which is actually vegan – vegetable protein and mushrooms with marinara sauce. And came with an 'allergy' flag so as to ensure it didn't get near any meat.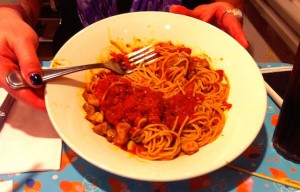 Nic was starving, so this plate was so welcome. She doesn't actually remember what spaghetti and meatballs are really like, but does miss "meaty" things like meatballs and meatloaf, so traditional substitutions like this are nice and comforting. At $16.99, it's nothing to write home about, but at the time exactly what was needed.
Gary got to indulge in one of his favorites, opting for Aunt Liz's Golden Fried Chicken.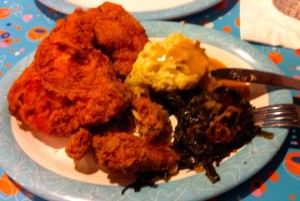 Served with Roasted Garlic Mashed Potatoes, Chicken Gravy, and Collard Greens, it's at a somewhat pricey $18.99. However it was one of the best servings of fried chicken that Gary's ever had, even if the greens were a little bitter and disappointing.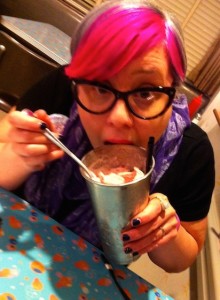 For dessert, Nicole went with the Red Velvet Cupcake Milk Shake. At $5.59 it's a freaking bargain. The milkshake comes in a big portion served in the steel mixing cup, and is made with vanilla ice cream, bits of cupcake, cream cheese icing and sprinkles. You can have it there or to go. It's worth stopping by the cafe to order the shake on its own – shakes were a lot of the orders we saw getting made at the bar earlier. Gary, still pretty full from the generous three piece serving of chicken, instead opted for the Traditional Warm Apple Crisp at $5.49, and was pretty happy for the choice. Slices of apple in a warm sauce covered in an oatmeal crisp were a nice finish to the meal.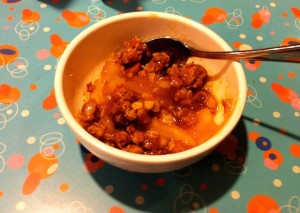 While the atmosphere is fun, the service is great, and the food good, the 50's Prime Time Cafe is a bit pricy for basic comfort food. If you're on the Dining Plan (and Disney has a free dining offer right now!) and don't want to go for a 2-credit meal at the Brown Derby, it's a decent choice for Hollywood Studios. If you're paying out of pocket, you might want to think about paying the extra for the Brown Derby, or walking over to Downtown Disney for other options.