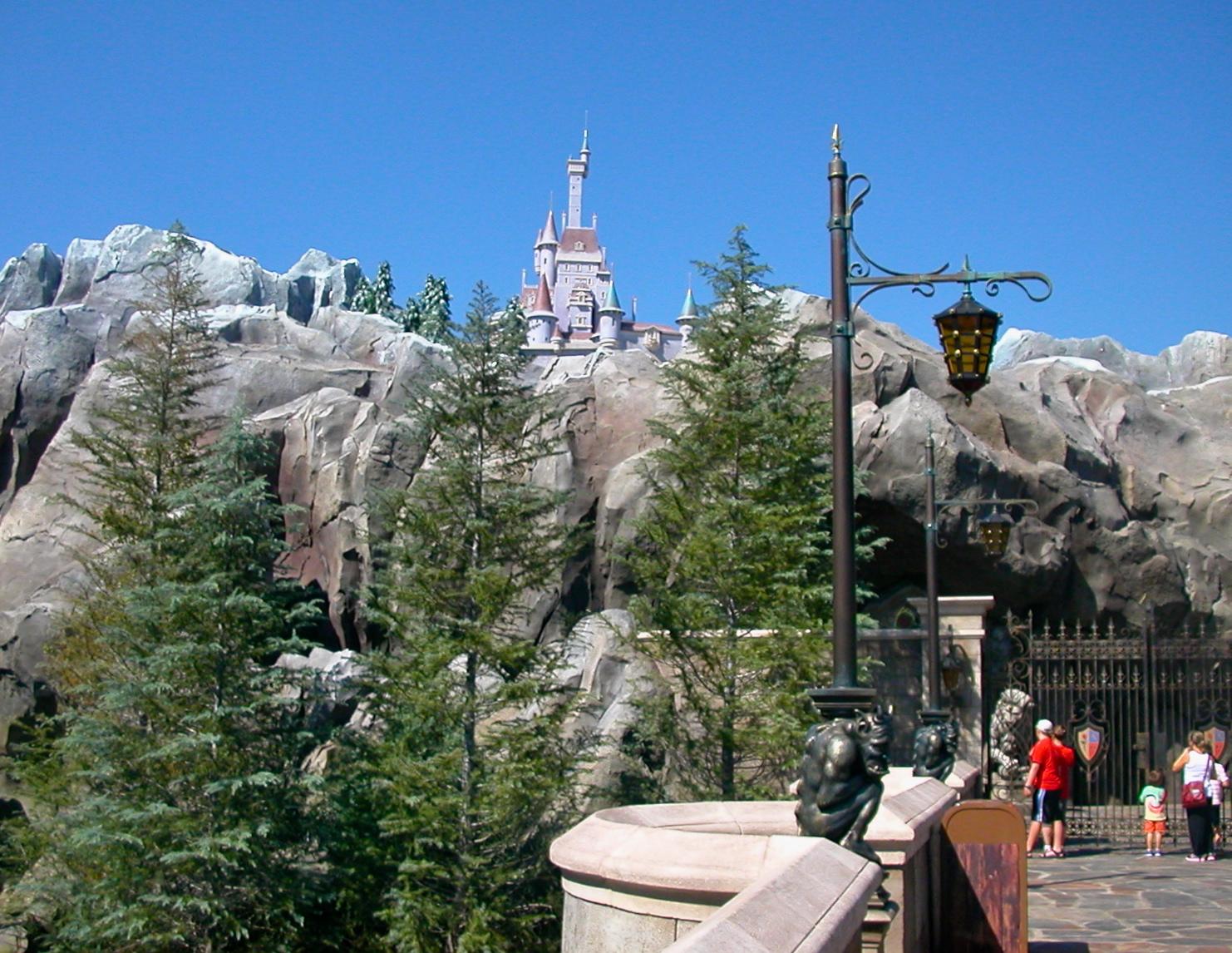 When we last visited Disney World, Be Our Guest Restaurant was very close to opening, but not quite ready – understandable, because we were some of the first people in New Fantasyland, as it turns out. We took a few shots of the entrance and menu, and planned for next time.
As it turns out, Be Our Guest is a hot ticket even now, especially for dinner. We weren't able to book for dinner at all, even a good month and a half in advance. We were able to take advantage of a FastPass+ for lunch, which will even allow you to pre-order your food. We decided to order when we arrived. It was a good thing we were able to access the FastPass+, because even at about 2 PM, there was a significant lineup outside, and the FP+ line took about ten minutes to go through.
Ordering was via touch-screen and pretty quick and easy.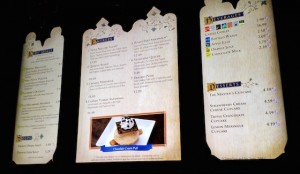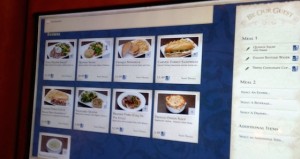 We were trying out the Disney Dining Plan (post to come on that), so the lunch was considered a 'Quick Service' meal on the plan. To compare Be Our Guest to something like your resort food court is frankly ridiculous, whatever category it falls under. It's one of the best meals that we've had at Disney World, period. The atmosphere, the service, and the food are all amazing. At dinner, it's also the only place in the Magic Kingdom to serve beer and wine, nice for those who like something to drink with their food.
We missed getting a photo of the rolling wood-and-glass carts that deliver the food to your table (through some sort of GPS system hooked up to Magic Bands or 'magic roses') no matter where you sit, but they really add to the atmosphere.
Nic had the Quinoa Salad for lunch, which came with a fresh salad of green beans, olives, roasted bell pepper, roasted golden beets and tomatoes. The roasted golden beets are the large slices on the top there.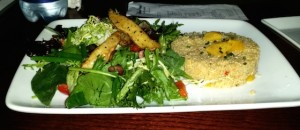 It was both light and filling, the quinoa portion enough to provide some good protein for a vegetarian always hunting for some that's not-cheese. The greens and veggies were fresh and tasty, the roasting obviously done recently. No mushy veggies on that plate. It was a surprisingly good meal for lunch, and though a little pricy at $10.49 out-of-pocket, it's an easy choice on the Dining Plan. We've paid more for not half as good veggie fare at home.
As deli sandwiches go, the Carved Turkey offered at Be Our Guest is probably one of the best you'll ever have.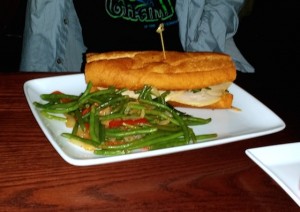 Nice and moist, it was heaped – almost Montreal-style – with four or five generous fresh cuts of turkey that was completed well by the crunchy baguette and Dijon mustard that came with a side of French green beans.
On Nic's triple chocolate cupcake had a cute square with 'Be Our Guest' in scrolled gold text, but the photo was less-good. The cupcake was as good as it sounds, with chocolate ganache, chocolate sponge cake and chocolate mousse filling.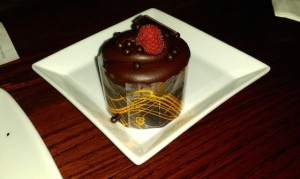 And because of our decision to go with the Dining Plan, Gary ended up with the Strawberry Cream Cheese Cupcake for dessert – something he otherwise might not have picked up.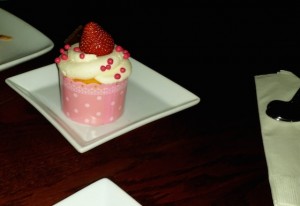 While we both feel guests on the "Plans" might be better served having a choice between an appetizer or a dessert, these cupcakes are excellent, and he certainly enjoyed it. Perfect portioning as well, with not so much that any was left behind… like the Earth Day cupcake that would later defeat us.
The option of bottled water as a drink was also nice as running around the parks in the Florida heat is very dehydrating.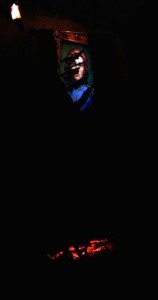 There are three rooms; we ate in the West Wing, which is dark, so provides some photography challenges. It features the Beast's changing portrait, a hidden Mickey, and the enchanted rose under glass from the film.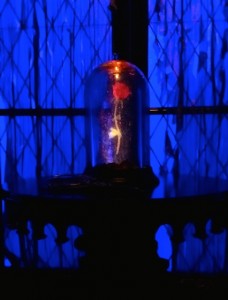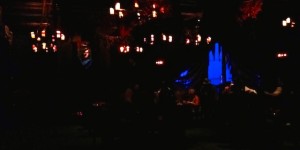 They put out rose napkins for dinner.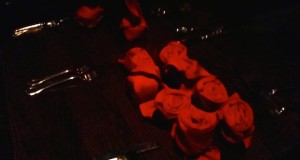 The ballroom is a stunning realization of the animated movie.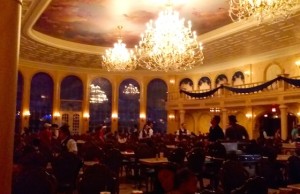 The Rose Gallery has portraits of characters from Beauty and the Beast, around a rotating statue of Belle and the Beast.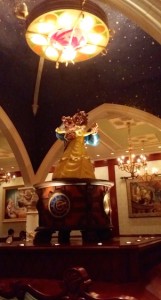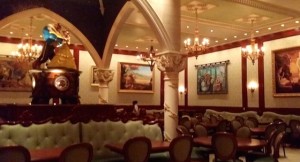 This picture of Mrs. Potts apparently has a hidden Minnie. We couldn't see it. (Maybe down at the bottom?)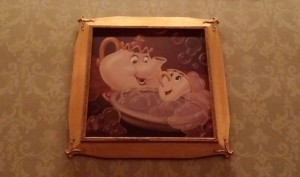 To sum up, the food was much better than anything we'd found in the Magic Kingdom to date, had more than one vegetarian option (though only one vegan), and the service was excellent and fast. If you'd rather avoid dinner prices while still experiencing Be Our Guest, lunch is a good choice. The service and the food don't seem to suffer for the difference in style of meal. Unless you can get a hold of the FastPass+, you may want to be ready to wait.