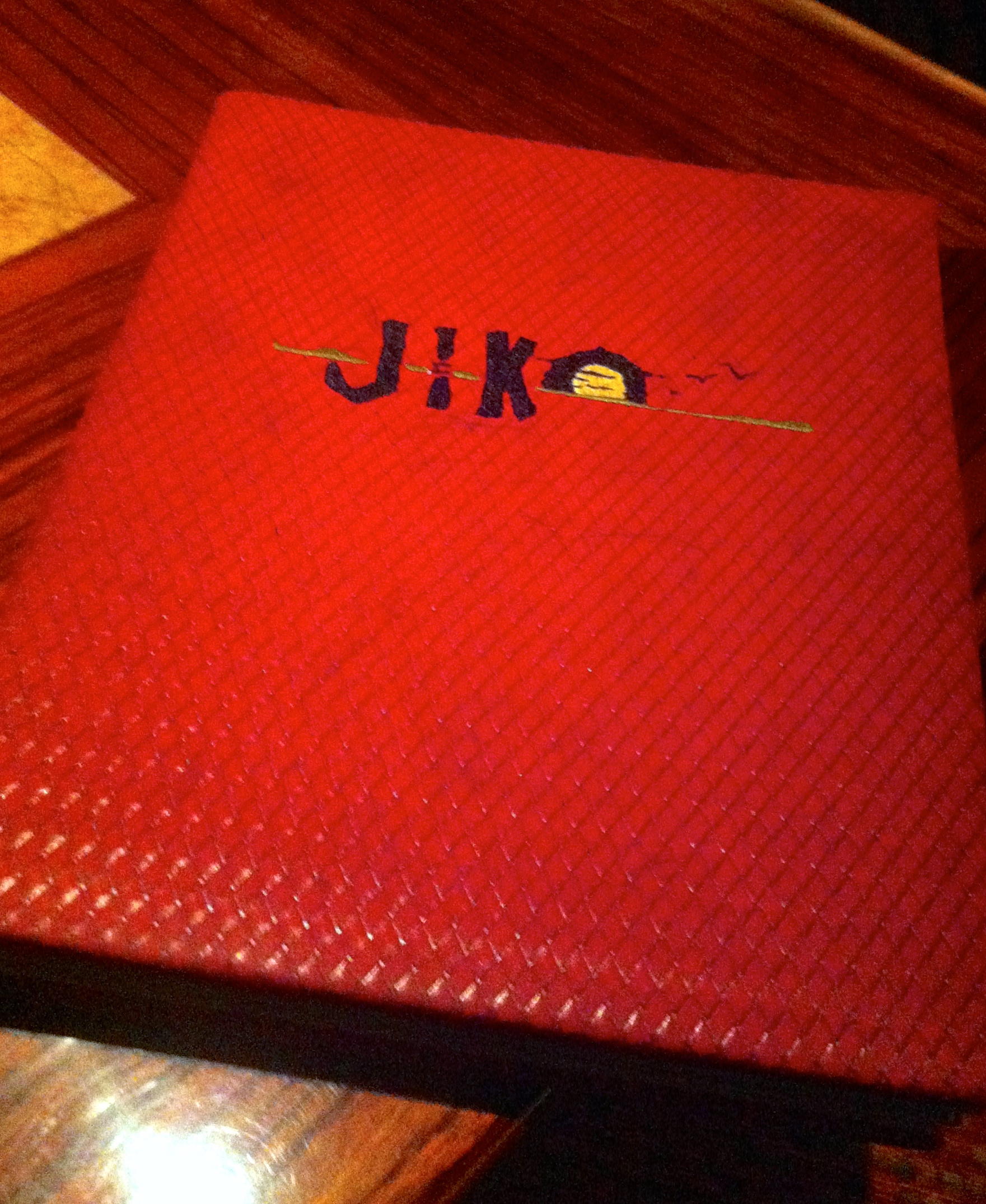 Upfront, if you want the TL;DR version of this review? We're staying at Animal Kingdom Lodge next Disney trip, just so we can eat at Jiko multiple times. (Okay, the animals help.)
With a vegetarian and vegan menu in addition to their regular menu, an impressive wine list that's considered the most extensive in all of Florida, awesome-even-for-Disney service, and a stunning (yet somehow casually elegant) dining room, Jiko – The Cooking Place at the Animal Kingdom Lodge is well worth the trip – one which can take over half-an-hour if you're staying at one of the Disney resorts to get there via the bus system as you'll likely have to transfer at the Downtown Disney "hub", or one of the parks.
It's certainly worth the price, whether out of pocket, or on the Dining Plan that requires you to use two of your credits for a meal there. It's definitely one of the more expensive restaurants at Disney World, but we're agreed that it was not only our best meal at Disney World, but one of the best meal experiences we've ever had in our lives.
While there our hostess told us that walking under the birds was meant to give good luck. Here's hoping we brought some back with us!
For dinner Nicole had the Vegetable and Tofu Sambusas with Mint-Coconut Chutney, Coriander-Tarmarind Yogurt, and Saffron-Cashew Rice, not too bad at $28 – though her dad would say that's a lot for a meal with no meat.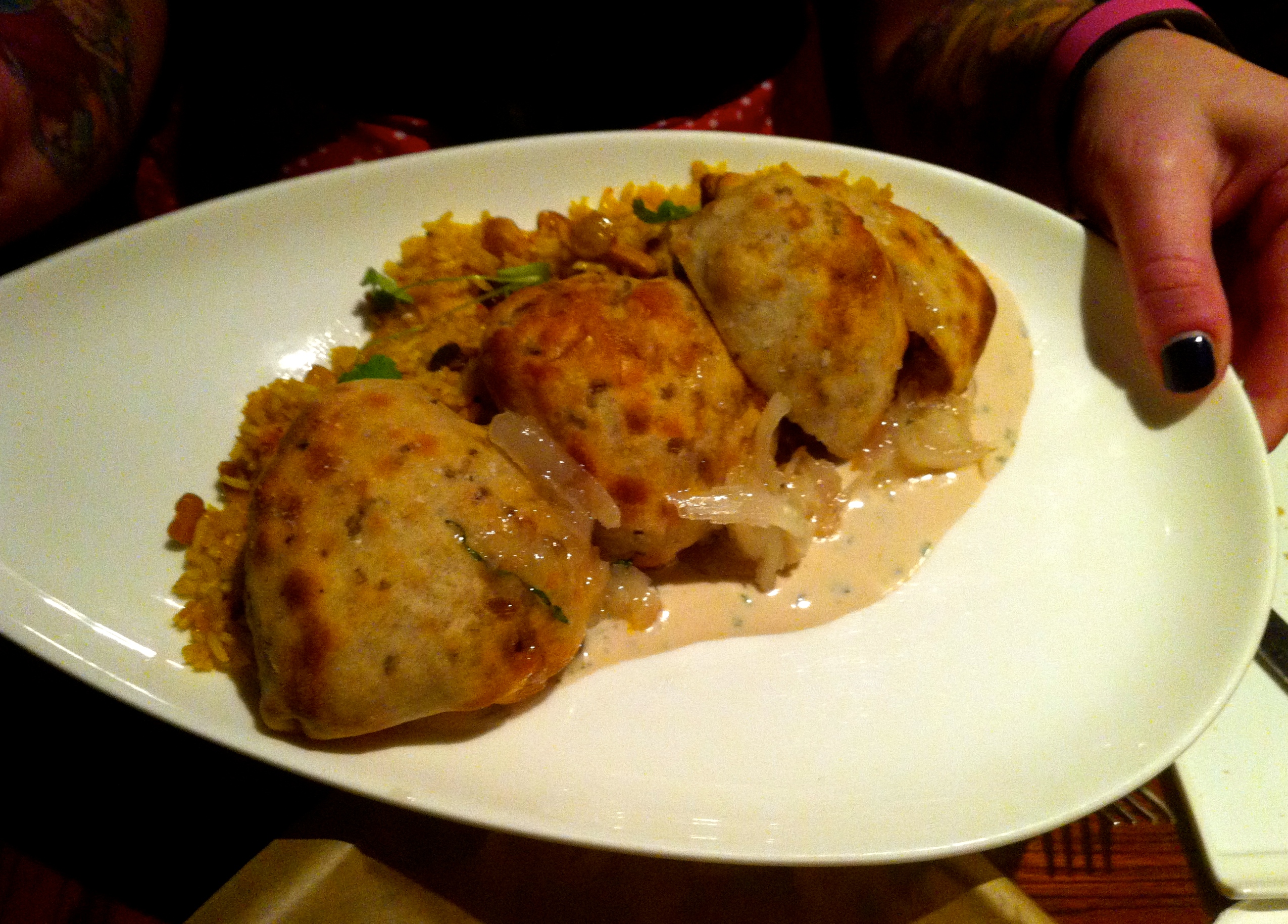 They were one of about five dishes that were of interest and vegetarian or vegan. The sambusas were filling and tasty on their own, while the chutney and the yogurt sauce added extra spice and flavour. The plate was cleaned.
Gary had the Spicy Botswana-style "Seswaa" Beef Short Rib with Cassava-Potato Purée, Sambal, Mushrooms, and Fava Beans at $42 that he absolutely loved, and still talks about to this day.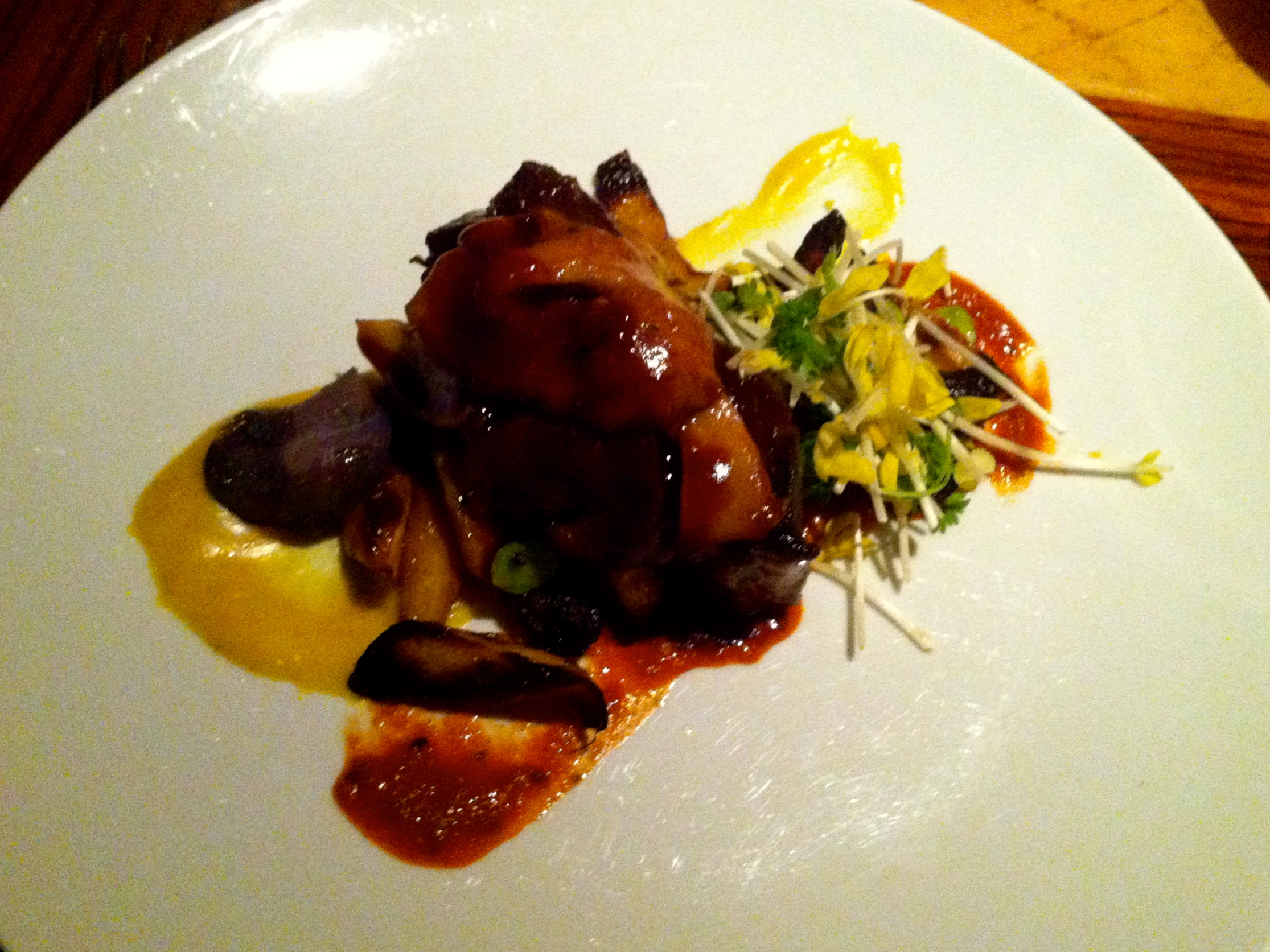 For dessert Nicole got another cupcake!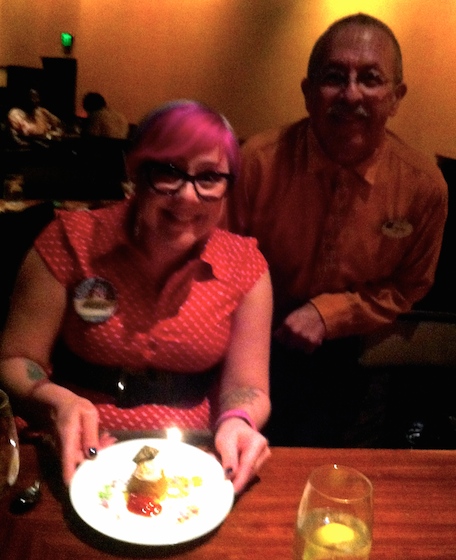 And then she had the Artisanal Cheese Selection that was comprised of three tasting portions: SeaHive, Cremont, and Bayley Hazen Blue cheeses with accompaniments at $15. The SeaHive – a nice crumbly cheddar – was a big hit. There was some sunflower brittle, two types of jelly, and fresh honeycomb for the cheeses.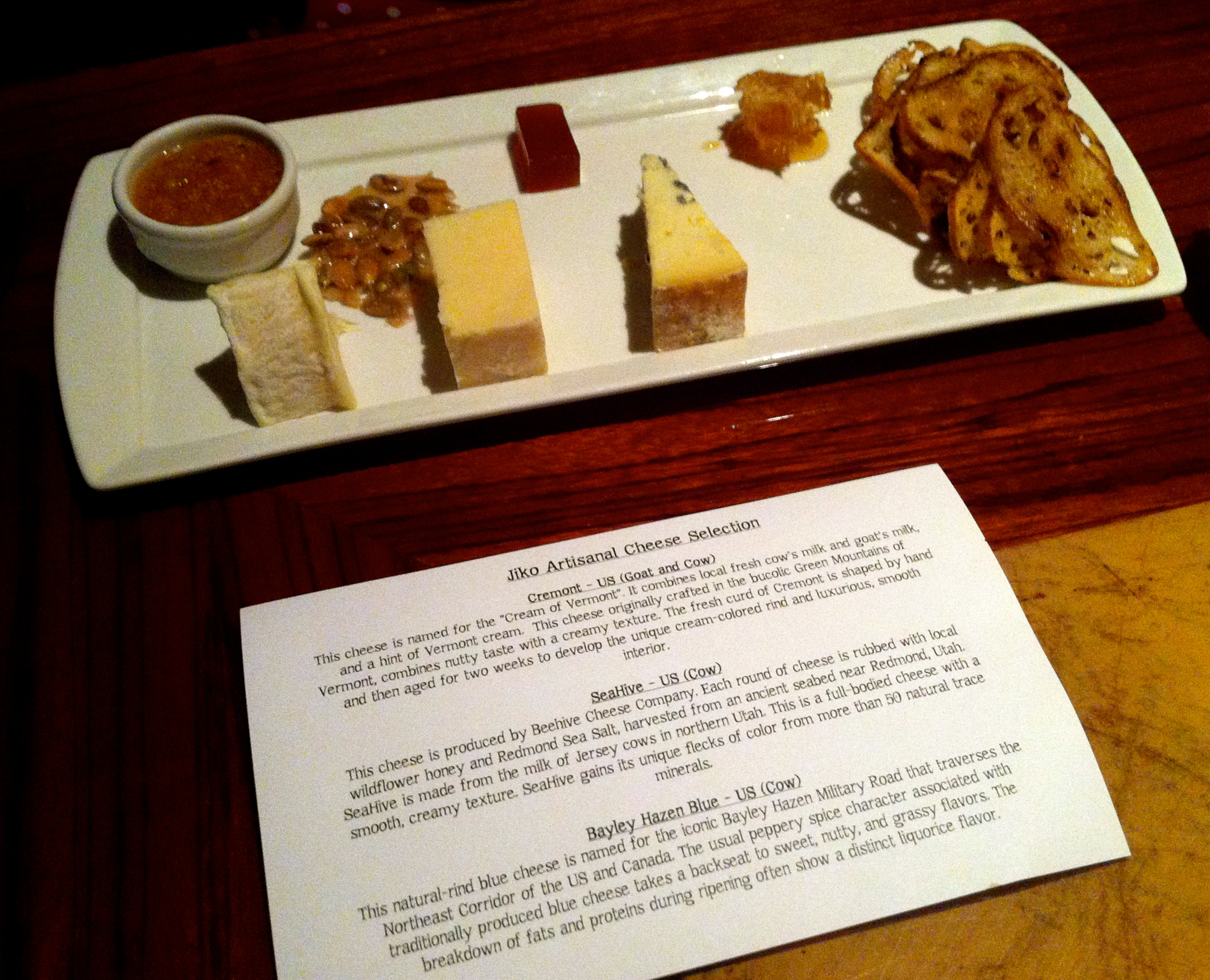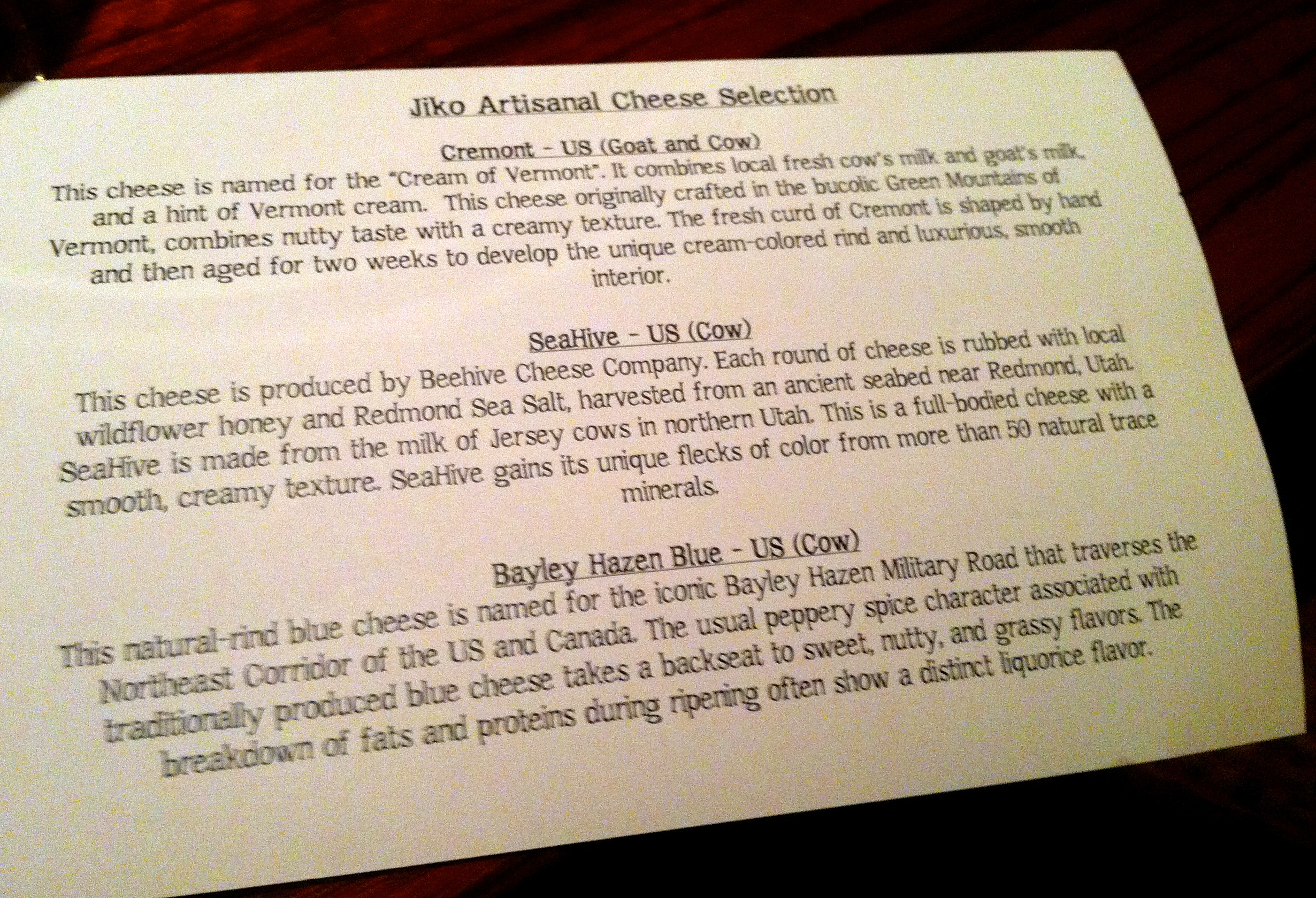 Gary had the Banana Bread Pudding with Raisin Bread, Custard, Banana with Madagascar Vanilla Bean Ice Cream, and Van der Hum Liqueur at $9 that he was also quite happy with.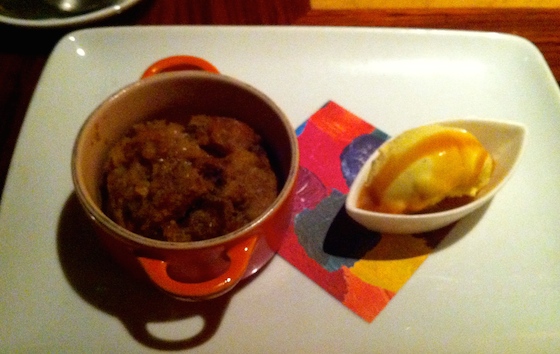 With dinner, we had a Warwick Estate 2012 Sauvignon Blanc that paired with the food nicely, and stood up to the ribs without going to a red (not Gary's favourite). We also really enjoyed the breads that came before the food, a pan-African selection with an herbed butter. We ate it all.As at the top of the review, we decided halfway through the meal that we'd like to eat at Jiko multiple times next trip to Disney World, and would be willing to stay at Animal Kingdom Lodge to do so. We told our waiter as much, and he was happy to hear it… but we doubt it's the only time people have said the same. The Jiko experience demands repeating.