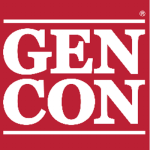 We're headed to GenCon in less than two days — and though we'll soon go over the things we're looking forward to most at the four biggest days in gaming, we thought we'd let people know what we're doing over those days. If you see us, come say hi! And if you have a great costume, that goes double — we'll be collecting pictures for a gallery when we get home.
If you want to get in on any of these events, search with the code at: https://gencon.com/events/find
Thursday, August 14
2 – 6 PM
New Gods: The Coming Storm
LRP1456873
Union Station : New York Central
8 PM – 12 AM
Curse the Darkness: A Light at the Top of the Mountain
LRP1458304
Union Station : Edison South
Friday, August 15
12 – 1 PM
Freelancing and Mental Health
SEM1465782
ICC : 211
2 – 3 PM
How to Run a Successful Tabletop RPG Kickstarter
SEM1465789
ICC : 210
5 – 6 PM
Gaming as Other
SEM1462429
Crowne Plaza : Pennsylvania Stn C
11 PM – 1 AM
The Devil Walks in Salem – From Fiasco Game to Film
FLM1461143
Westin : Capitol I
Saturday, August 16
11 AM – 4 PM
Pacific Rim: After the Breach
LRP1454082
Omni : Meridian
6 – 8 PM
Hacking as Women: Indie Hack Night (* Nicole only)
WKS1456969
Marriott : Marriott Blrm 7
Sunday, August 17
12 – 2 PM
Sons of Anarchy: Men of Mayhem
BGM1462876
ICC : Hall D : GF9 : HQ
See you in Indy! And if you have any restaurant recommendations, pass them on!
Related articles