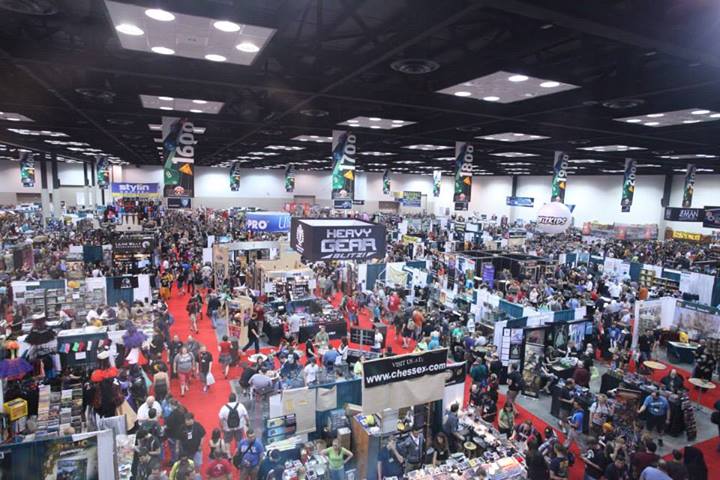 Gary and I are not only experienced travellers… we're experienced geek travellers, with several convention visits (local and otherwise) and weekend LARP events in our travel past. We're working on a trip to GenCon this summer for the first time in many years, and thought that we'd offer up some tips for preparing for any con trips you might be planning for in the future!
Make/Order Your Shit In Time. I am the worst at this. I make plans for a costume, or something I'd like to have/wear/do for the con, but I leave it too long and end up sewing substandard fabric at the last minute that ends up looking sort of okay-to-decent from the outside and like a hot mess on the inside. My Jedi costume is a pretty good example — it looked decent, but the issues with it range from sloppy sewing to mistaken cuts in the fabric to… well. You know. It could look better. The pictures look good. But I wouldn't go showing it off to anyone either.
Experienced cosplayers will be able to speak better to planning a costume build, but the point is — schedule your shopping/buying/building so you're ready with time to spare. Ideally. Time to pack, worst case scenario. Double shipping times if you need to order things, put reminders in your calendars, do what you've got to do, but make sure you're not trying to pack a sewing machine to do alterations at the hotel. (Again, experienced costumers can speak to this better. I am a lazy costumer and will likely buy most stuff from now on.)
Build A Reusable Packing List. I personally find this pretty useful. I have a folder with a number of packing lists from different years for different purposes — one for cruises, one for Disney, one for Vegas, one for cons, etc. If you travel often, this can be a big time saver. It can not only suggest what you took last time, but you can also remember what you didn't use, and pare that down. If you bother with outfit specifics, you can have a quick list of your clothes for that specific occasion. If you're smart, you'll make a note of whether you needed that much stuff or not, but if you're like me, you won't. Trust me, you never need as much as you pack. NEVER. (People view us as weird creatures on cruises as we come on with a couple of carry-ons & backpack/purse each. Still don't need it all.)
Driving? Know Your Limits. Driving overnight, like many ideas, sounded better to all involved than it ended up being. Likewise, be aware of what and where you're comfortable driving and try not to overestimate. I learned in Malta that it wasn't the best place or day for me to be learning to drive on the other side of the road/car, so I gave up on that — thankfully, I COULD, so if you're going to be in a critical position, know what you can handle.
Flying? Try To Carry On (But Don't Be That Jerk). If you're flying and you don't have a ton of stuff, you've likely heard this before: take a carry-on. Some of them are miracles in terms of what can fit inside, and things like packing cubes can go a long way in maximizing space. If you can find a companion carry-on, like a purse, backpack, or messenger bag that can hold most electronics and other important or necessarily accessible things, you're pretty much set for up to a week's 'normal' travel. For example, my Maleficent can somehow carry up to 8 books and a laptop along with the regular purse organizer in it — which is why it's both my carry-on purse and schoolbag. It's practically a bag of holding. Look for those.
But please don't be that person that tries to carry on too much, something too big, or doesn't stow their items efficiently. Always handles in, wheels out, for the most part! Don't be the sideways bag person! We will move your bag!
If Possible, Look Into Grocery Delivery. Who know you could have groceries delivered to a hotel? I found out about this on the DISBoards.com, it was one of the best things we did at Disney, and my mom thinks I'm a genius for it: order a grocery delivery to your hotel if you want snacks, drinks, water and other things that you might not be able to pack, especially if you're flying. At Disney World hotels, the bell captain will STORE your groceries, including cold and frozen items. If your con hotel has a fridge or a kitchenette, this can lower your food budget and help with dietary problems — in some parts of the US and the world in general, it's hard to be a vegetarian, let alone anything else. Stocking food that you can definitely eat can go a long way toward helping. Most services will let you pick a delivery window that you'll be there for, but if you're worried about it, contact the hotel to see how they'd handle it if you were absent or if they'll have issues.
Driving? Stock A Cooler. You'll Thank Me. My parents did this on car trips to Florida, which limited the food bought on the drive down and food budget in Florida, as the cooler was a great place to store cold foods in a hotel with no fridge. If you have easily reachable snacks on hand for the trip down and available for the con, it will save some time and money — and will probably be better for you besides. The only thing to be careful about is fruits and vegetables across borders — your apples could get confiscated.
Always Take Snacks and Water. As with groceries, this solves any dietary concerns — and frankly, you're busy and convention centre food is bad. A lot of walking, time on your feet, and possibly wearing a heavy costume can bring your energy down. Make sure you have water and food on hand. We like almonds (though be careful to look for nut-free areas), granola/Clif/Luna bars, dried fruit, baby carrots, and mini cheese or hummus and spinach sandwiches.
Make A Shopping List AND A Shopping Budget. If you have spending money available after paying out for tickets, events, hotel, transportation and food, it's a good idea to have an idea what you're looking for. This helps you prioritize even potential purchases and set a budget. Of course, there will be unexpected items to lead you astray… but if you have an idea of what you want, you also know how badly you want it, so can reassess if you see something you NEED.
If You Have A Condition, Manage It x100. Many people who are disabled or struggle with various conditions already know this, especially if they travel often. Seems simple, but I get migraines and I often forget to make sure I have all the things that will help me ward off/deal with migraines on me at home, despite having all my resources nearby. When you're away, it can be more difficult to find what you need, and the stress of travel is always awesome for flare ups. Make sure you pack all the medications and other stuff that will make your life easier, and likewise be aware of surroundings that might cause issues, and don't ignore them for the sake of 'fun.' It'll be less fun later. Just do what you need to do to keep yourself healthy and well.
Any thoughts from your own con trips or tips from your experience? Comment!