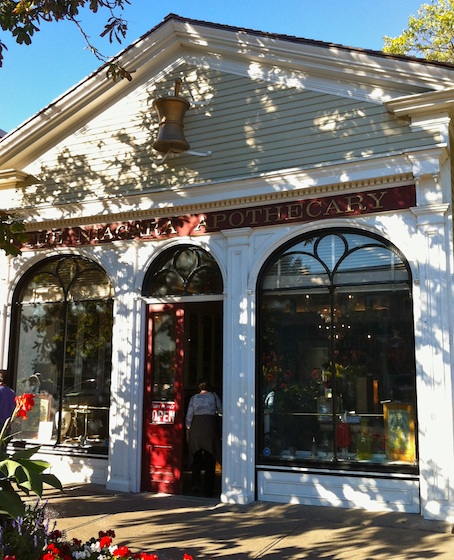 Originally in operation from 1820 until 1964 the Niagara on the Lake pharmacy was acquired by the Niagara Foundation after its closure who began preservation of the building as part of the Canadian Centennial project before donating it in 1968 to the then newly established Ontario Heritage Foundation (now the Ontario Heritage Trust) who performed an extensive restoration of the Apothecary with original interior fittings from 1869 being restored and the majority of the original drug jars and bottles that would have been imported in 1835 from the United Kingdom returned or replaced.
During the 19th century the majority of the dispensed prescriptions would have been compounded and produced in-house, and with the exception of certain proprietary remedies the pharmacist or one of their apprentices learning their trade would typically have prepared the pills. Pharmacies during the period often however also filled the role of general store – especially in frontier settings – stocking everything from spices and household supplies to clothing dyes and paint.
The building has been open to the public since 1971 as a pharmacy museum and is operated by the Ontario College of Pharmacists who employees retired pharmacists to answers all your questions welcoming over a 100'000 visitors from around the world each year. Museum opens Mother's Day (mid May) to Labour Day (early September) daily from noon to 6PM with occasional morning openings. After which it is only open until Canadian Thanksgiving (second Monday in October) and only on the weekends, but will also be open for Doors Open Niagara. Group tours can be arranged through the Ontario College of Pharmacists by calling 1-800-220-1921 or emailing ahetherton@ocpinfo.com. Admission is free, but they do welcome donations.