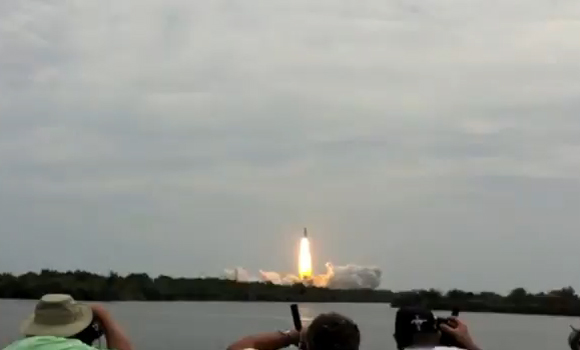 In honour of the Space Shuttle Atlantis making its maiden flight – Mission STS-51-J – thirty years ago we look back at my visit to its final launch on July 8, 2011 and some footage that my father was able to get thirty years prior of Columbia's launch. In fact it's thanks to #NASATweetup and my visit to the final launch, I was also featured on The National – and because of that, my family and I were fortunate enough to have a short reel of Super 8 film transferred to digital by the CBC which was also used on the broadcast. It's pretty amazing to see the difference in technology in the twenty-nine years between the two launches… even if my footage is really really bad. The fact that I shot it on my PHONE is astounding alone.
Here's what my dad shot at the STS-3 launch of Colombia:
And here's my iPhone 'footage' from the STS-135 of Atlantis – and be warned, it's not only shaky, but I forget to follow the damn Shuttle, AND I go 'woo!' the whole time:
In 30 years, we've gone from having a big bulky camera with film (that we couldn't watch because we couldn't afford a projector, then never bothered!!) to a tiny phone that is messed up by my unsteady hands. Gorillapod, you're on the shopping list.