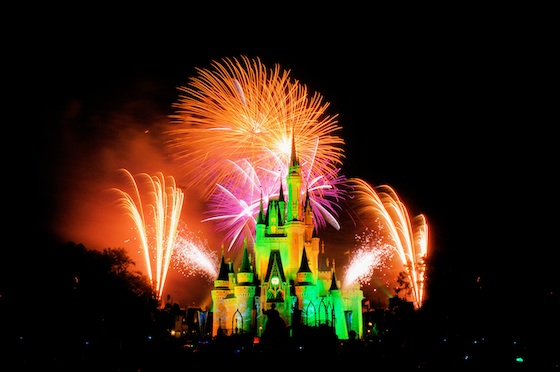 After we went down in April 2012 for Nicole's birthday we agreed to go back for mine that following October to see Disney World done up for Halloween. And because we were coming back specifically for this, it only made sense for us to get tickets for Mickey's Not-So-Scary Halloween Party (being held until November 2nd) and do a little trick-or-treating ourselves – a map for which can be found at the following link detailing the eleven locations scattered around the park that candy is available at. Embracing a pirate-theme we came as pirate and privateer to commandeer as much as they would let us haul away.
Tips: If you're able to make it to the Magic Kingdom for the party and intend on going to the parade, Frontierland is likely your quieter option for finding a spot along the route as the avenues beneath Cinderella's Castle and the curbs along the adjoining Mainstreet USA are pretty packed. Also kids should try and get up front as cast members at the end of the parade will distribute candy to trick-or-treaters along the parade route. Our video covers the first seven minutes after the headless horseman rides through. The rest was caught in some photos.
Stick around Cinderella's Castle if you want to see the Happy Hallowishes fireworks show where Disney Villians can be seen trick-or-treating across the sky, but don't miss out on many of your favorite Disney Characters and Villians in special Halloween costumes, with some of the latter even being available in place of the usual lineup at some of the character picture spots. The dwarves even put in an appearance over by the Briar Patch where you can hit three candy locations.
Tip: Getting the PhotoPass for the evening is a good idea. Not only will you get some great shots if you've gone in costume, but they do more specialty shots like the hitchhikers in Liberty Square or the coachman outside the Haunted Mansion.
Related articles