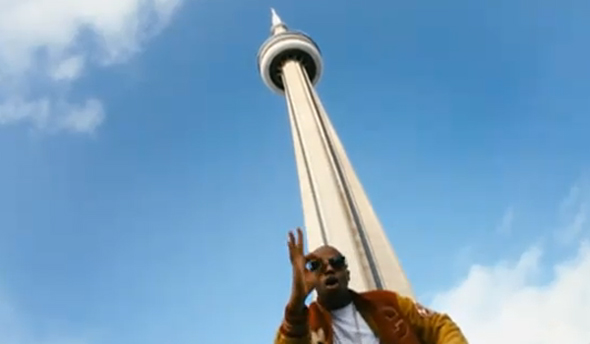 "I'm from the T- Dot-Oh… Rep it everywhere I go… Everybody from the cold… this is where we're calling home…"
For the longest time, I wanted Toronto to have a hip hop track like Jay-Z's 'New York State of Mind' or Kanye's 'Homecoming' — something that showed the same love for this city that they did for theirs. I knew that love was out there, and I knew we have a strong and vibrant, if underreported, hip hop community, so I was hopeful it would come around someday. Late 2010 was someday, as Kardinal Offishall – from Scarborough – created 'The Anthem', which sampled Toronto FC chants and repped the entire city like I knew a real Torontonian and Canadian could.
One of the best parts of 'The Anthem' is the video, which gives you a four minute tour of Toronto's icons across the city, including some celebs – look for my old boss Strombo sitting down with Kardi for a chat. If you want to see Toronto and can't come visit, this is a great way to do it.
I love this video and I love my city! In Kardi's words: To the grave, I'ma rep my town. Thank you so much for this track, nuff respect.
Recently, another fun tour of Toronto came out, this time as a parody. Boys Without Girls is a sendup of the Pet Shop Boys West End Girls, about guys trying to pick up girls in Toronto. It's funny and clever with the lyrics, and shows another side of the city. Take a look for a somewhat less frenetic tour of Toronto.
Have a great music video tour of your town? Tell us!