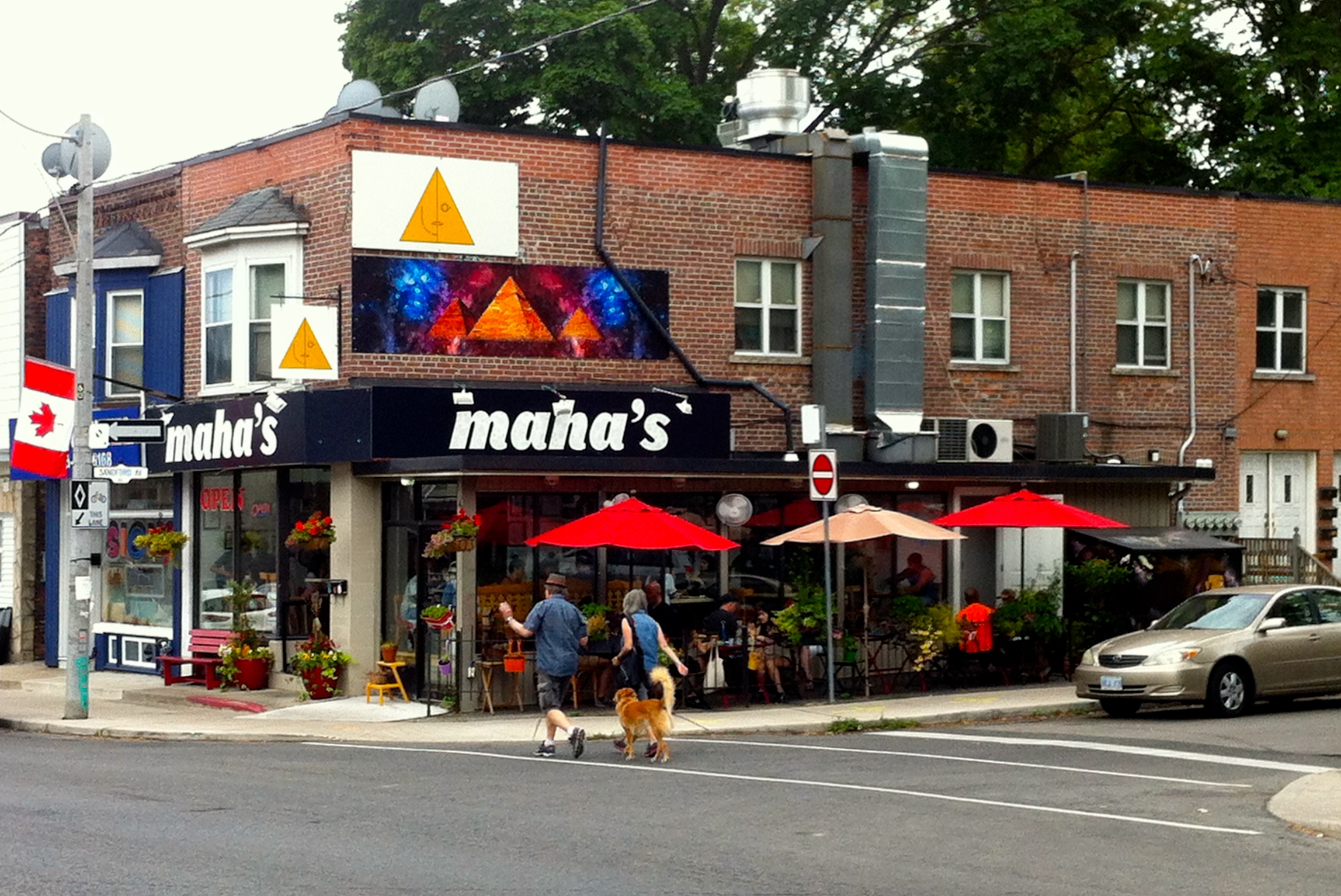 Maha's Fine Egyptian Cuisine opened less than a five-minute walk from our house two years ago, and we've meant to get over there since then. It's taken us so long because any time of day or week, the brunch/lunch spot on Greenwood is full of foodies and families stuffing themselves with Maha Barsoom's delicious food. Weekends see large groups of people outside, waiting impatiently for their table.
The place is a family affair – Maha's daughter Monika Wahba is her sous chef and her son Mark Wahba runs the front and the espresso machine.
The restaurant has a homey vibe with a well-shaded side patio that sees a lot of action in the summer. There's room for groups of up to six to eight people, but expect a long wait on weekends and holidays. For Pokémon Go addicts, the 'Pyramids in Space' mural above Maha's is a Pokestop. A few lures were on it the last time we were there, much to Gary's annoyance. (I deleted the picture of him looking irritated with a Drowzee on him, sorry readers!)
I went to Maha's on my own the first time, while on a staycation day – about 4 PM on a Friday afternoon. I got a table right away. Though it seemed like a no-brainer to order the Cairo Classic, I took the server's recommendation and went with the Date Grilled Cheese with cumin fries on the side ($12). (I wanted lentil soup, but they don't make it in the summer.) If you love cumin, the fries are crispy perfection, and the three-cheese honey-drizzled grilled cheese with dates sautéed in butter is a wonderful combination of flavours.
I also had the Turkish Coffee ($3), only available weekdays and pictured above. Mark will pour it for you, thankfully. I love black strong coffee, and though it comes thick and hot off the burner and you'll need to let it cool, it's worth the patience. We haven't yet had their signature honey-cardamom latte ($4.25 small, $4.95 large) but it's on the list for next time.
We went for brunch together one cloudy Sunday at about 2 PM in the middle of a heatwave, and were seated on the patio within 20 minutes. It was a surprise, as we'd been ready to go home and wait for 30 minutes or more. We don't usually love outdoor seating (being vampires), but the patio is fairly shaded and comfortable. We got our menus and our orders in pretty quickly, though I was sad that I couldn't have some more Turkish Coffee (it takes up a burner – too much for the weekend).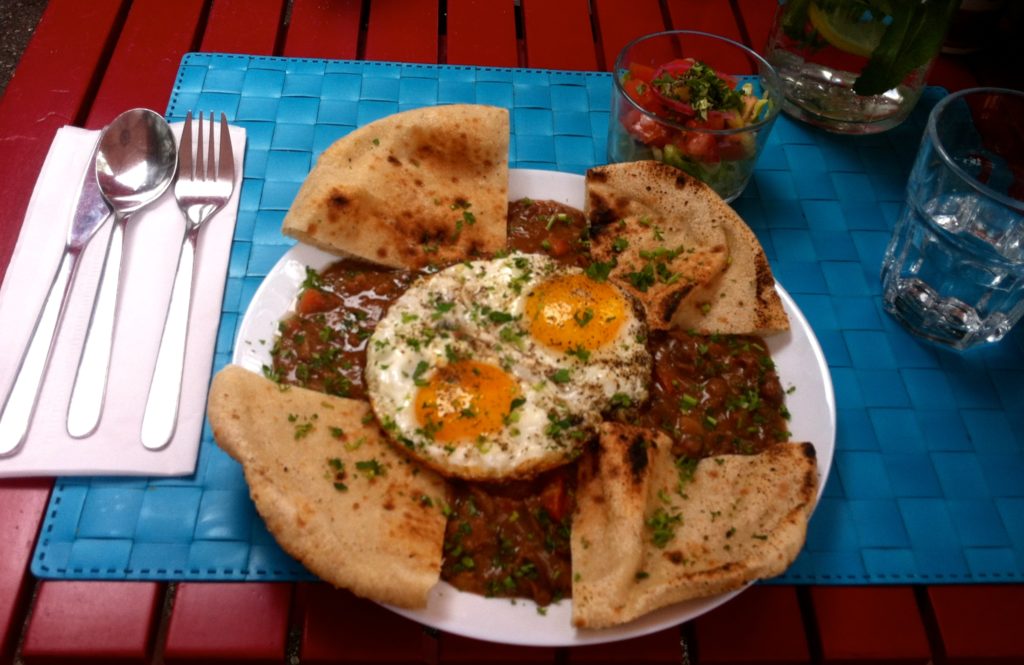 Gary had Sunny Eggs and Foole ($12), sunny side up eggs over foole, a traditional Cairo breakfast dish made with fava beans, with charred balady bread and greens. Gary jumped at the chance to get a well-prepared sunny-side-up egg, and described the dish as "satisfying comfort food."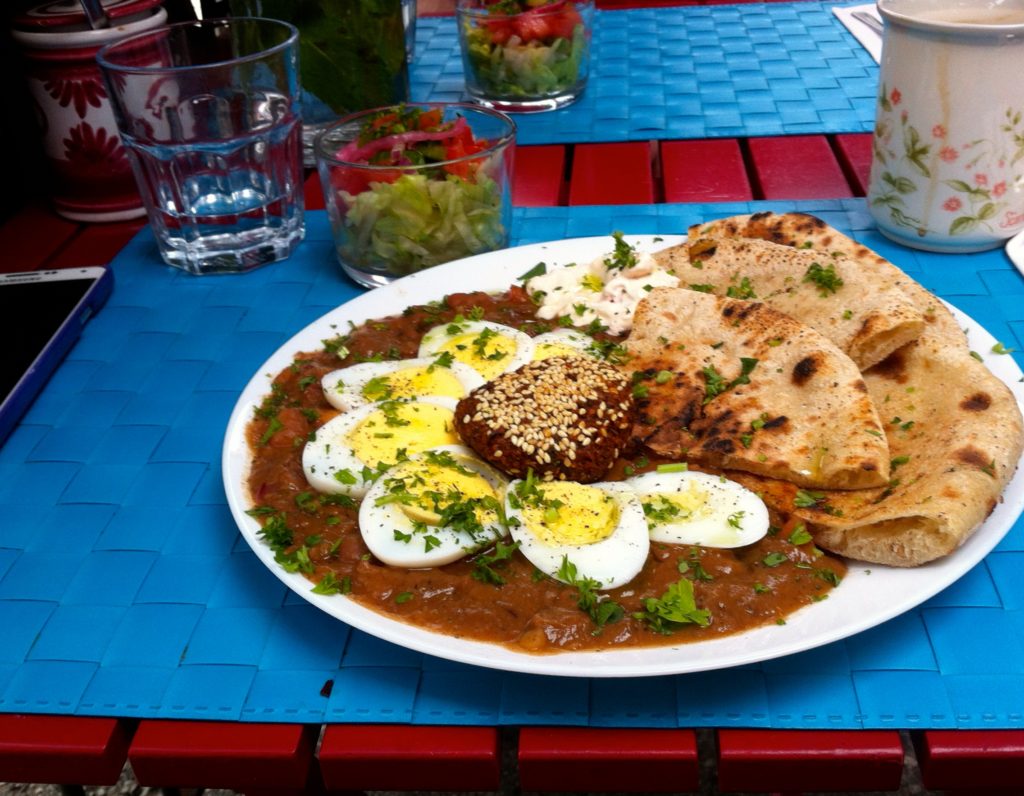 Since I'd skipped the Cairo Classic ($12) last time, I ordered it, along with a really lovely americano. Sliced boiled egg, a falafel, and a bit of tomato feta is served with foole mixed with tomato and onion, and balady bread. The server told me the way to eat it was to make 'little sandwiches' with the bread – I did and they were pretty amazing little sandwiches. All the flavours are excellent on their own, but perfect together. The foole is a particular favourite.
Going later in the day will definitely get you seated more quickly, but certain dishes may run out, so be ready to compromise. Maha's usually only does brunch and lunch, but during Ramadan, they have done Iftar dinner – best to follow their Facebook page for the latest.
Maha's
226 Greenwood Ave, Toronto, ON
(416) 462-2703
https://www.facebook.com/MahasFineEgyptianCuisine/
(No Reservations)