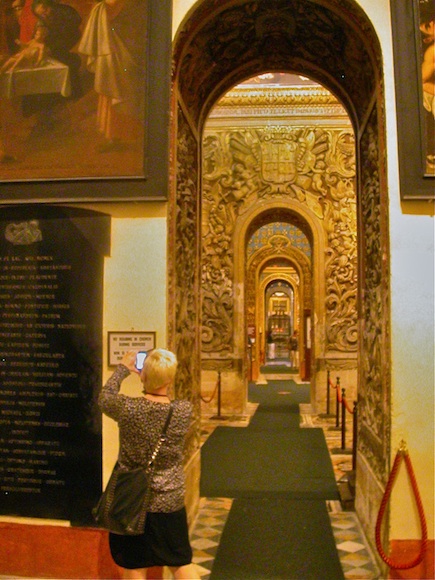 Our third port of call during our 2011 Mediterranean cruise was the small archipelago state of Malta off the coast from Sicily in the middle of the Mediterranean. And having done our research, our first stop there while we were in at Valletta, was the Knights of Malta's conventual church, St. Johns Co-Cathedral. Following the conquest of the Holy Land by Islamic forces, the city was bequeathed to the Order of the Knights Hospitaller to safeguard the Catholic faith and Europe from the Ottoman Empire. Inhabited by noblemen from the most influential families of Europe, the knights seemingly vowed to not only provide these protections, but also to make their capital city of Valletta worthy of their ancestry.
Tip: Found at the corner of St. John and Republic, the church pretty much sits in the middle of the city. But do keep an eye out, it doesn't look like much from the outside and would be very easy to walk by.
Commissioned by the order's Grand Master, Jean de la Cassiere in 1572 CE, St. John's Co-Cathedral was built over the following five years and completed in 1577. Since then it has served as the principal house of worship for the city, and the final resting place for many of the knights who have lived there.
These tombs can be found covering the majority of the floor and even in some cases walls of the church, marked by individually engraved marble tombstones depicting the stories of the Hospitallers entombed within.
Off to the side of the altar is a small museum housing works by the grand master Caravaggio, a brilliant painter who journeyed to Malta after his exile (ca. 1606 CE) from Rome in what some assume was an attempt to gain and use Grand Master Alof de Wignacourt's patronage to secure a pardon back in the capital. Thanks to his fame Caravaggio was inducted in as a knight but proved unable to restrain his carousing ways, and ended up seriously wounding another member of the order in a drunken brawl a short two years later. He was apprehended, but managed to escape before they could punish him.
Tip: As it is a church, remember to dress accordingly – the pamphlet they helpfully hand out basically asks that you cover your shoulders and not wear hard soled shoes due to the damage they could cause the floors. This also extends to flash photography, as some of the artwork is extremely fragile. Additionally get there early, as they do close for mass. Plus there's a lot to see.
Thanks to over two hundred years of contributions by the Order, it is considered to be one of the most important monuments on the island and one of the most elaborate examples of the High Baroque era in general.