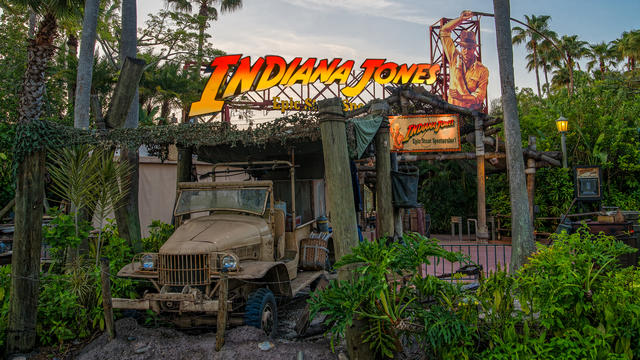 At the beginning of the year we were lucky enough to spend almost a week at Walt Disney World with Nicole's family to celebrate the holidays. While there we decided to take in the Indiana Jones Epic Stunt Spectacular! stage show when we visited Hollywood Studios. Drawing upon some of the more iconic scenes from Raiders of the Lost Ark, actors with some select audience participation reenact scenes during which various stunts are staged. Produced by George Lucas and directed by Jerry Rees with stunt coordination by Glenn Randall Jr. in 1989, the show doesn't cheap out on the pyrotechnic display, with several explosive sequences incorporated into the scenes. It was also the first of the park's attractions to use a computer-operated control system that allows for customizable sequences to be triggered by the actors in concert with the effects being handled by the cast members in the control booth, and began a trend in live stunt shows being staged across the parks.
Through a recreation of the "Peruvian" temple where our hero is required to navigate a series of ancient traps while making his getaway with the golden idol, to the busy streets of "Cairo" where local goons attempt to subdue "Indy" & "Marion," during which the volunteers selected from the audience are called upon to participate as part of the onscreen crowd who follow the antics of our heroic duo as they trash thugs and market stall alike, before climaxing with the couple's attempt to keep Nazis from flying away with the Ark, the audience is treated to a number of action packed scenes interspersed with some behind the scenes interactions that reveal just how many individuals are required to make a movie like one of the Indiana Jones installments, all while doing so in a pretty comedic and entertaining fashion.
It turned out to be a lot of fun, and was pretty impressive in its staging. Definitely worth taking in if you've already done many of the other must-dos.
"Peruvian temple"
"Streets of Cairo"
Stunt choreography demonstration
"Nazi airstrip"