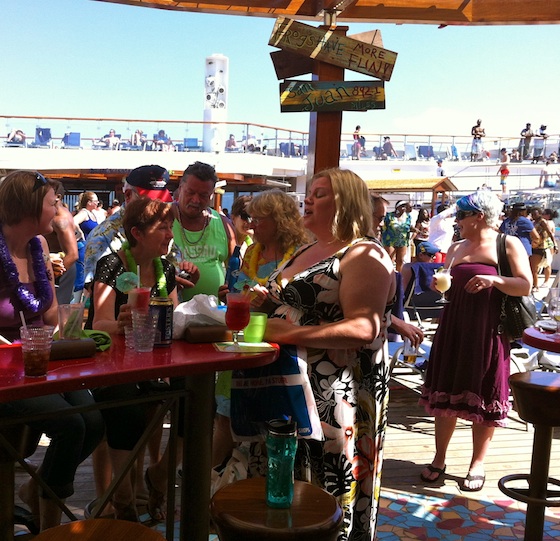 Having already talked a little about what the services and activities can be like aboard one of Carnival's cruise ships, I thought I should talk a little about what the rest of your life aboard might look like while you're cruising. While you are enjoying your voyage with many other cruisers, it's much more likely that the majority of your interactions aboard the ship are going to be with the staff and crew. And having had the chance to do a number of these now it's become very clear that the majority of the employees working for the lines do so for months at a time with only the occasional chance to make a short call back home. So try and treat them with even just a little consideration, and they'll bend over backwards for you to make the trip the most memorable they can.
Coverage however onboard the ships has been getting better with this last voyage aboard Carnival's Glory offering shipwide Wi-Fi 24 hours a day if you purchase one of their packages, otherwise they did provide a business centre with a bank of computers. As expected though the connections there were painfully slow, and should really only be used for checking port of call arrangements you might have made before hand, or the status of your flight on the way home.
And while you might not think about it, arranging to get thousands of people into each port can actually be rather complex, and frankly time consuming. Doubly so for ports where you're required to go in by Tender because the waters surrounding the port are too shallow for the ships to come in directly. On the Glory this meant queuing up at Guest Services for a Tender sticker which would then be called for when the crew was ready to take that batch over. This however is really only important if you're wanting to be among some of the first groups heading into port. We for example being the late risers that we are never bothered and simply waited until the ship announced that the Tenders were no longer calling for zones. Then it was more of a first-come first-serve sort of thing. Though it does make the Faster to the Fun Pass a little more enticing as along with many of the other perks you get priority boarding on the Tenders, thus not having to worry about any of this.
Also for the more environmentally conscious, like all of the other major cruise lines Carnival supports marine conservation programs, even encouraging the passengers onboard to do their part and help reduce their consumption and recycle.
Related articles