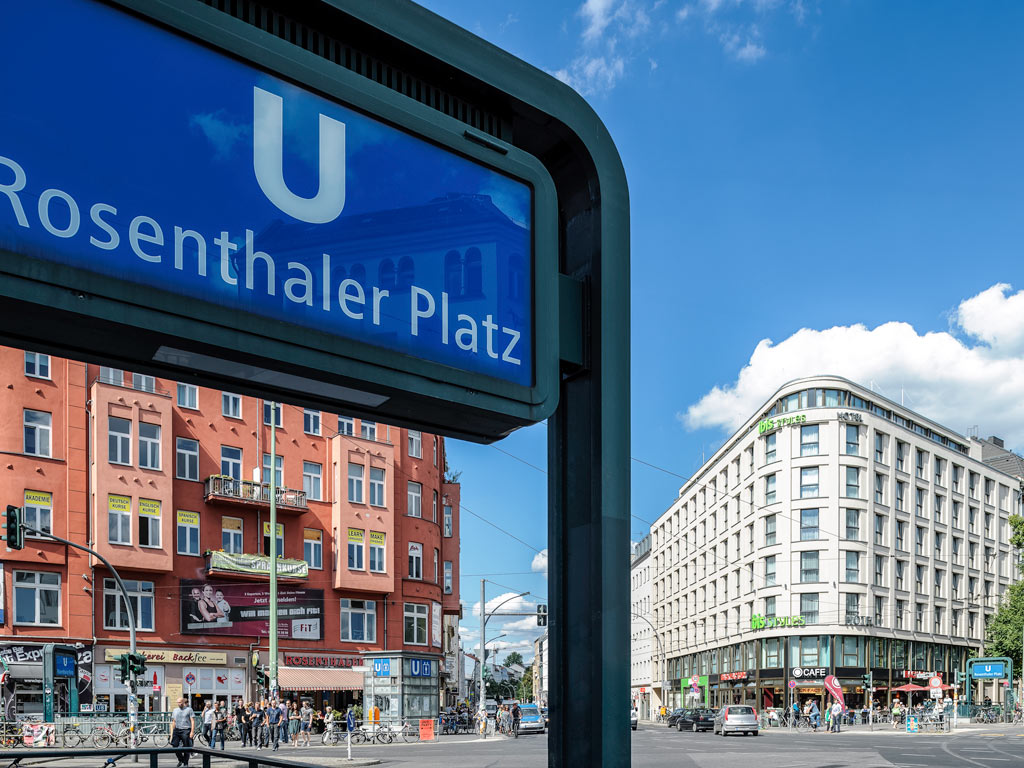 In the week after our first College of Wizardry, we both got the larp plague, along with a good chunk of the cast. Unfortunately, that was also the week we were spending in Berlin, so we had the opportunity to spend a lot more time at the ibis Styles Hotel Berlin Mitte then we might have otherwise. Fortunately, it wasn't a good choice only for the price – the cheapest in one of the core downtown areas (breakfast included) – but for lots of other reasons.
What we liked:
The location. Situated pretty much on top of Rosenthalerplatz Ubahn station, the hotel is accessible by three types of transit, with a number of tourist sites within its vicinity (anywhere from 10 to 40 minutes depending how much you like to walk!), the hotel is also atop a convenience store that's stocked with cheap beer and liquor (as well as tables to drink at), and an inexpensive sandwich shop with lots of restaurants to choose from in the surrounding area. Vegetarian options were okay, but vegan options less so.
Staff. The staff all spoke English (we were terrible and had no German for the trip), were always friendly and helpful,  available around the clock. We skipped cleaning a couple days in a row, and there were no issues with that – in fact, they left a note saying that cleaning could be requested up till 3 PM that day! Also, when we ordered food, we had no problems when the delivery arrived – we were called immediately to come down.
Free Breakfast from 6 to 10AM. Offering cold meats and cheeses, breads and cereals, yogurt and granola, fruits and veggies, hardboiled eggs, as well as juices and smoothies are available. The staff is quick to keep the buffet stocked.
Free Coffee & Tea till 10 PM. Take out coffee in the morning, or having a little pick me up before an evening out is nice!
Chilled drinks & bar. You can buy pop and beer for your room, or order a pint or a drink downstairs in the evening.
Stylish, quiet, well-designed room. The room is cute and bright, with a design that maximizes the space you have. It's remarkably quiet, with little noise from the hall or the street – you can open the windows for some air. The fireplace TV (with fireplace channel!) is particularly cute.
Price. It was one of the cheapest, nicest hotels we found in Berlin that offers a free breakfast (we're slow, so this certainly helps). We might have gotten a better deal with AirBnB, but we would have had to eat some breakfasts out, or gone shopping.
Free national calls?! We're so used to avoiding the hotel phone, I don't know how we'd use it, but ibis gives you free calls for all of Germany.
WiFi. For hotel wifi? Pretty speedy.
What we didn't love:
Though the storage space was well planned and there was room under the bed, the room was very small. It wasn't bad, just took some arranging – and we usually wouldn't spend a lot of time in the room anyway. Having some sick time in the room definitely emphasized its tininess.
The number of electrical outlets in the room is limited – basically next to the TV and in the bathroom area.
Notes:
It can get crowded at breakfast during peak times and on the weekends, but there's always lots of food. It might take you a minute to find a seat. Singles and couples will always do better than groups, obviously.
The rooms have clear shower doors facing into the bed area. It's not only small, but a very intimate space if you intend to share with friends.
It's a European style room, so electricity is activated by key card slot at the door (we always forget this at first).
Mitte can be an expensive district, so some restaurants/bars can be pricey in the area. Take a look at prices first if you're budgeting.
Google Translate and a quick search can help you order food without ever needing to speak German! More on this later.
We hope to return to Berlin at the top of our game, and would definitely stay at the ibis Styles Hotel Berlin Mitte for another trip – by ourselves, or with friends and family. If a cute, clean budget hotel, with a decent breakfast is what you're looking for, this is a great choice.
We booked on Booking.com. We don't get any money for saying that, we just find good prices there.
Related articles