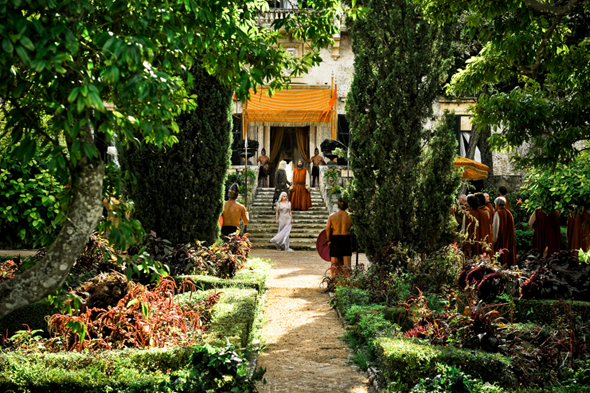 One thing Gary and I don't talk a lot about is taking ballroom dance – it's not because we feel this is something embarrassing, but because we feel we suck. We've been at it for long enough not to be bad at it, but we're still learning and would in no way claim to be "dancers." One thing Gary does talk a lot about is how he loves soundtracks, and both he and the TV shows I love – Alias, Lost, Battlestar Galactica, even Jem & the Holograms – have taught me appreciation for a well-written score (or fake pop tune that I still remember many many years later).
I've also been doing a lot of work with covers, so this might be influencing me.
The point of all this? A) Gary and I are going to dance to the Game of Thrones opening, and you will see it: this is a promise; and B) while trying to figure out the particulars of how all that would work, I stumbled across an astounding amount of Game of Thrones theme covers on YouTube. I'm really impressed at the skill that goes into these, as well as the vast differences in approach. So here's some of my favourite covers and remixes of the Game of Thrones opener in no particular order:
Game of Thrones Violin Cover
Jason Yang has more patience than I even can think of.
Game Of Thrones (Alert's 70s Metalstep Remix)
A '70s Sabbathy metal dubstep remix'. Stripped down.
Game of Thrones – Opening Theme (Medieval Cover)
With flutes and all!
Game of Thrones intro (Accordion Cover)
Gary thinks they need to cast this guy in a Braavosi scene, playing as Cat of the Canals wheels her barrow by.
Game of Thrones – Acoustic Cover
A gorgeous acoustic arrangement.
Game of Thrones – Opening Credits Cover (Heavy Version)
Metal and Fantasy go hand in hand – and so there's obviously need for an epic metal cover. Watch it with the actual credits below, and you might wish to rock on Winterfell:
And someone had to:
Game of Thrones BEST VERSION EVER – Jason Yang & Roger Lima/WNL Mashup! Opening Theme
A metal-violin mashup!
Do you have any favorites I missed? And I think I have to state that we'll follow a spoilers policy by post – so no book spoilers in the comments, TV discussion only please! Thanks!
Related articles