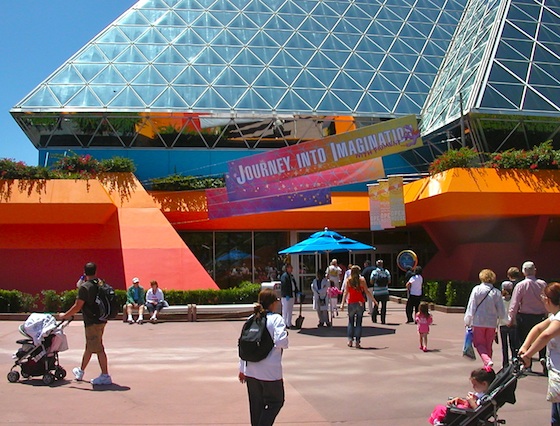 During our first 2012 visit to Disney World we visited Epcot and took in all of the must-sees that Nicole remembered from her childhood visits. Which of course meant a stop by Imagination! where Eric Idle in his role as the chairman of the Imagination Institution greets you for a tour of the facility before everyone's favorite fictitious dragon Figment hijacks the visit. Located on the western side of the Future World area, the pavilion was originally opened back in 1982 and over the years has undergone three significant evolutions.
The original iteration started out as an area where the 3-D Magic Journeys film was played and included a pre-show presentation on the history of photography, no doubt thanks to the original sponsor of the pavilion being Kodak who ended their sponsorship after nearly 28 years in August, 2010. A year after its opening the Journey into Imagination pavilion was opened. However by 1986 the Magic Journeys was replaced by the more advanced Captain EO which starred Michael Jackson as the title character. Proving popular it managed to hold out until 1994 when our current chairman replaced it.
But even the Journey Into Imagination has undergone its own renovation when it was closed in 1998 and reopened a year later simply as Imagination! However at the time Figment only made a short appearance at the end of the ride. Only with the 2001 modification was he brought back in a more prominent role. We grabbed the intro while we were there, unfortunately the ride's pretty dark at first. However the audio's really good and we even catch Figment and the first refrains of the Imagination song (video's just over a minute and twenty seconds) before the chairman gets things back under relatively control.
Afterwards you exit into the ImageWorks and can play through a series of interactive rooms that generate all manner of sensory response. Seemed to be an especially big hit amongst younger children.