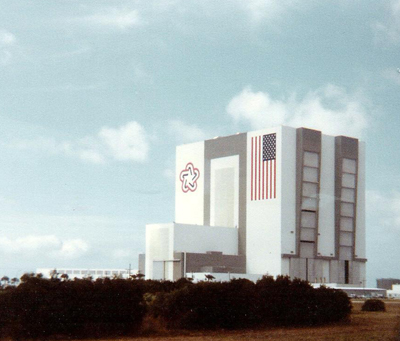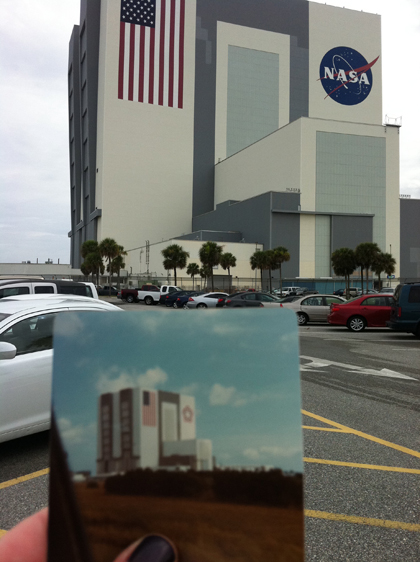 One of the best parts of touring Kennedy Space Center at the #NASATweetup for Atlantis' last launch was getting a look inside the VAB – the Vehicle (originally Vertical) Assembly Building. The VAB (not Vee-Eh-Bee as I initially thought, but Vuh-Ah-Buh, like it's a word) was first built to assemble the Saturn V Rocket for the Apollo program, then used to mate the Shuttles with their fuel tanks, place them on the mobile launcher and the crawler, and send them out to the launch pad. We were all accordingly in awe when we were allowed to enter, cameras and all. No lighters though!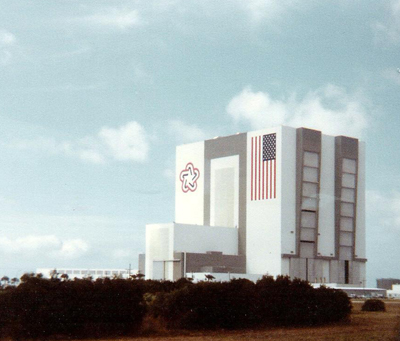 As you might have noticed in the photo above, the VAB did not always have a giant NASA meatball. My dad took the older photo in 1978, when the Bicentennial star was painted on the side for the celebrations held out at Launch Complex 39. Showing some of the old-school NASA employees my pictures was a fun part of the trip.
Here's a video I made during our tour to give you all an idea of what it feels like to be inside the VAB. If you've ever wanted to go to space, being in the place where they build spaceships? Feels a little like being in church.
I really need to work on my camera skillz. :(
The VAB is largest single-story building in the world, was the tallest building in Florida until 1974, and is still the tallest building in the United States outside an urban area.