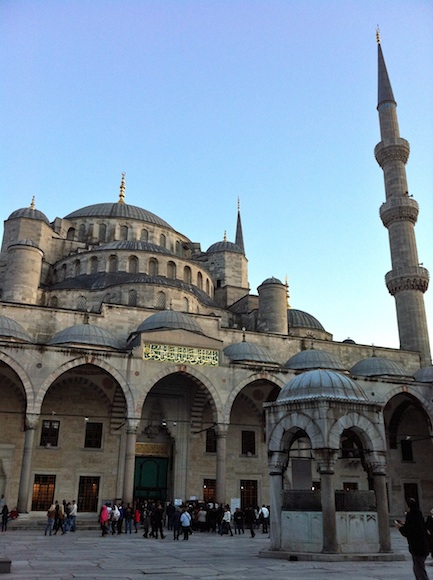 More commonly known as the Blue Mosque due to the blue tiles that adorn its interior walls – over 21'000 of which were used – a keen eye might even notice the differences in the colours and arrangements, indicating the date and workshop they were manufactured in. To heighten the sense of spaciousness felt inside, a total of 260 windows were cut, which also serve to create the illusion that the domes are suspended in air.
Constructed between 1609 and 1616 at the behest of Sultan Ahmet I, the Sultanahmet Camii is the last of the imperial mosques to be commissioned by the Ottomans.
Built facing the Ayasofya Muzesi, not only were elements from the Byzantium basilica incorporated, but the Blue Mosque was also made with six minarets, provoking outright hostility at the time, as the Prophet's mosque in Mecca had been the only mosque reserved the right to boast as many.
In present day the building is still used as a mosque, but due to its history and beauty, has become a popular tourist attraction.
Try and get there between prayers as the building is closed to non-Muslims during these times – otherwise hours of operation are 9AM to 1HR before dusk prayer (daily). You will also be expected to remove your shoes, so a bag to carry them in is a good idea – while the mosque does offer plastic bags, they tore easily. Admission is free, but they do accept donations at the information kiosk on your way out.
Getting there early also means you can stop by one of the simit trolleys and indulge in one of the local delicacies. Generally served plain, or for breakfast with some Turkish tea, or jam and cheese, our street vendor had some seasoned with cinnamon.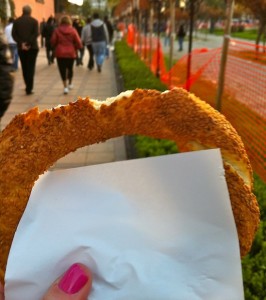 For the cat lovers, remember to swing by the prayer benches located outside the main entrance. Packs of some of the healthiest street cats we've ever seen, like to hang out there and sun themselves while getting attention and food from the visiting tourists and worshipping Muslims.
And while it's always advisable for women to bring a scarf for covering their heads when entering a mosque, they didn't seem to be enforcing such when we visited.