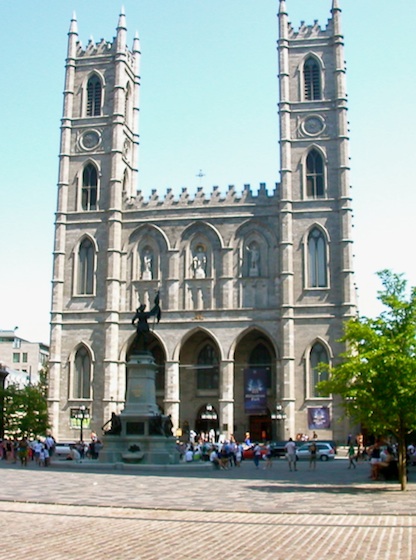 Cited as one of the most dramatic examples of Gothic Revival architecture in the world, the church is perhaps even more interesting for its unusualness. Instead of the traditional glass windows depicting biblical scenes the windows that adorn the walls of the sanctuary display images from Montreal's own religious history. Notre-Dame received the basilica designation during Pope John Paul II's visit on April 21, 1982 and seven years later would be designated a National Historic Site of Canada on February 24, 1989. Located in Montreal's historic old district, the Notre-Dame Basilica can be found at the corner of Notre-Dame Street West and Saint Sulpice Street facing the Place d'Armes square. Tip: Closest metro station is Place-d'Armes.
Built on the original site of the Notre-Dame church erected by the Roman Catholic Sulpician Order in 1672 that ruled the parish into the nineteenth century, and served as the first cathedral of the Diocese of Montreal from 1821 through 1822. However by 1824 the congregation had completely outgrown the church and would begin construction on the building that now stands. While the main construction would only take five years to complete, the adjoining sanctuary and two towers would take an additional fourteen years. Upon its completion in 1843 the church would be the largest place of worship in North America and remain so for over fifty years. Interestingly it was an Irish-American Protestant architect from New York, James O'Donnell who was commissioned to design the new building and made the decision to adopt the Gothic Revival architecture. He is also the only person to have ever been buried in the church's crypt having converted to Catholicism on his deathbed realizing his previous faith would have bared internment in "his" church.
Because of its scale the much more intimate Chapel of the Sacred Heart was built behind the church to facilitate weddings, while masses and events like the annual performance of Handel's Messiah every December at Christmas are traditionally held in the main church. When the masses are not being held, the basilica charges visitors an entry fee of $6, and holds a sound and light show detailing the church's history Tuesdays through Saturdays running $10 for adults and $5 for children.