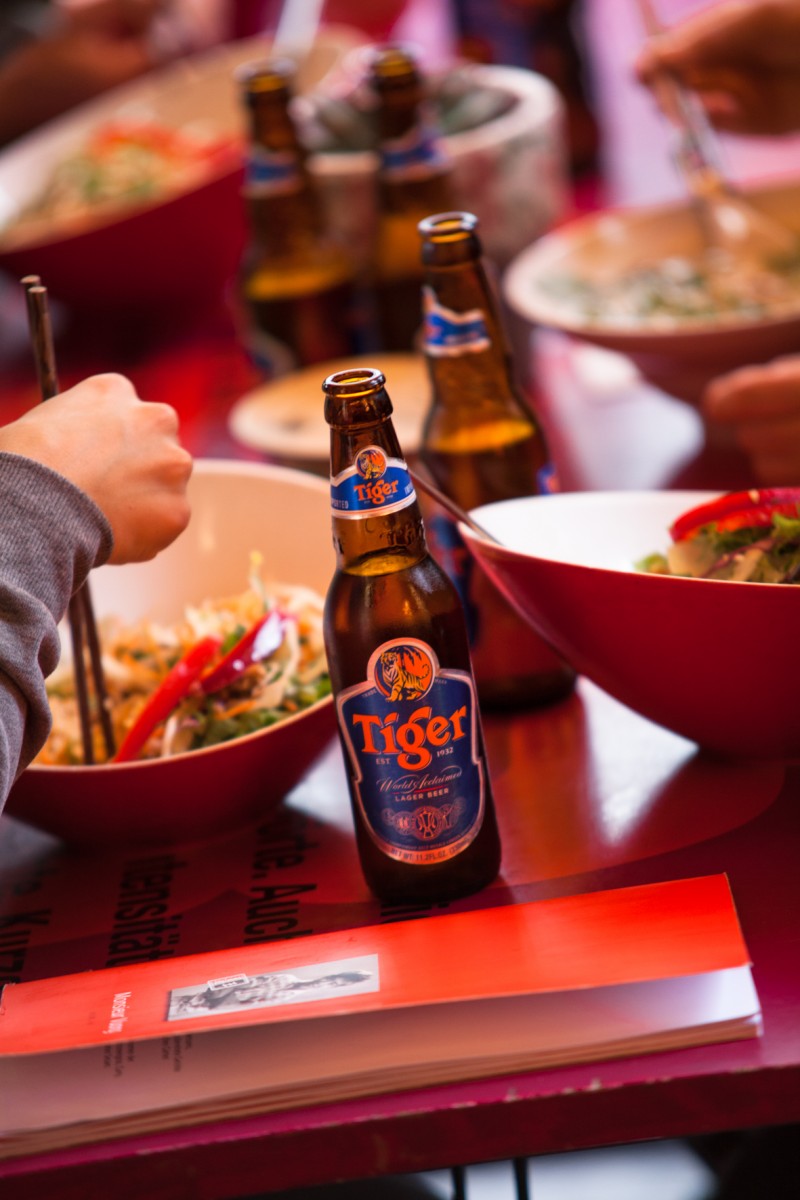 When we were discussing our trip to Berlin for Convention of Thorns, I asked Gary if there were any things we should plan for in our all-too-short trip. He said he didn't think so; he'd want to see what we had time for.
"Oh," I said. "I thought you'd want to plan to go to Monsieur Vuong."
"Well, yeah, we're doing that," he said, as if it had already been decided.
Friends of friends told us to go to this Vietnamese restaurant in the Mitte neighbourhood of Berlin before we made the trip but after we made reservations at the nearby ibis Hotel. This was a happy coincidence that let me visit Monsieur Vuong twice – once with a College of Wizardry friend who is a vegan, and once with Gary when he was feeling better.
First off, this is a Berlin hotspot that does not take reservations, so plan to go at an off time or plan for a wait. Also, plan for a party of 4-6 at most, as you're not likely to get a table bigger than that. It's a busy and lively place that like most inexpensive restaurants in Berlin is kid-friendly, so look elsewhere for your quiet chats and romantic evenings.
The food is worth the wait, however. I've gone without won ton soup since I became a vegetarian, but Monsieur Vuong's vegan wan tan soup with organic tofu was so amazing and comforting, I just ordered it again the second time I was there. The organic tofu is also served up as an appetizer, crispy fried on the outside, steaming on the inside. Gary had a daily special duck dish; the meat was tender with crackling skin, fried up with a variety of veggies and served over fresh noodles. Both times I went, the service was busy, but quick with food and to come by if signalled.
Cocktails are inventive and inexpensive, as are the smoothies made with the fresh fruit kept decoratively on the bar. A variety of beer is also served, as well as Vietnamese coffee. There's a short dessert menu that we'll make it to one day, once I'm not scraping the dregs out of my soup bowl.
It might seem strange to suggest a Vietnamese restaurant for a Berlin visit, but the excellent food and reasonable prices make Monsieur Vuong a must. When you're having an extra drink or two, think of us!
Monsieur Vuong
Alte Schönhauser Str. 46, 10119 Berlin, Germany
Phone: +49 30 99296924 (No Reservations)
http://www.monsieurvuong.de/
(Photos from the Monsieur Vuong site)